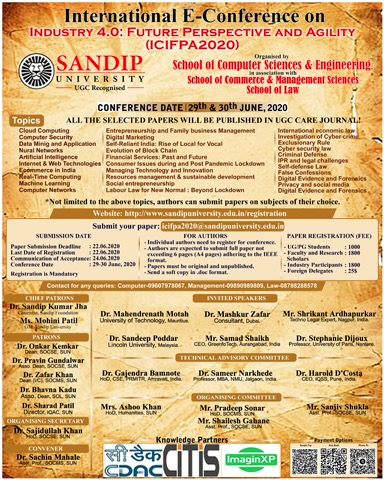 International Conference: ICIFPA2020
899 people viewed this event.
Event Title: International Conference: ICIFPA2020
Event Date: 29th and 30th June, Time: 10:00AM to 4:30PM.
Event Conduction Duration: 2 Days
Event Venue: Google Meet and Live Streaming viaGoogle Meet and Youtube
Event Mode: Online.
Description:
School of Computer Sciences and Engineering in Association with School of Commerce and Management Sciences and School of Law is organising an International Conference IFPA2020  during 29th and 30th  June, 2020.
Eminent personalities and entrepreneurs around the globe have been invite:
Dr.Mahendranath Motah, University of Technology, Mauritius
Dr.Mashkur Zafar, Dubai
Dr.Shrikant Ardhapurkar, Techno Legal Expert, Nagpur
Dr.Sandip Poddar, Lincoln University, Mauritius
Mr.Samad Sheikh, CEO Grreninfo, Aurangabad, India
Dr.Stephanie Dijoux, Prof. University of Paris, Nantere
Registration Link:https://bit.ly/2XIVpY4
For More Information, Download Brochure