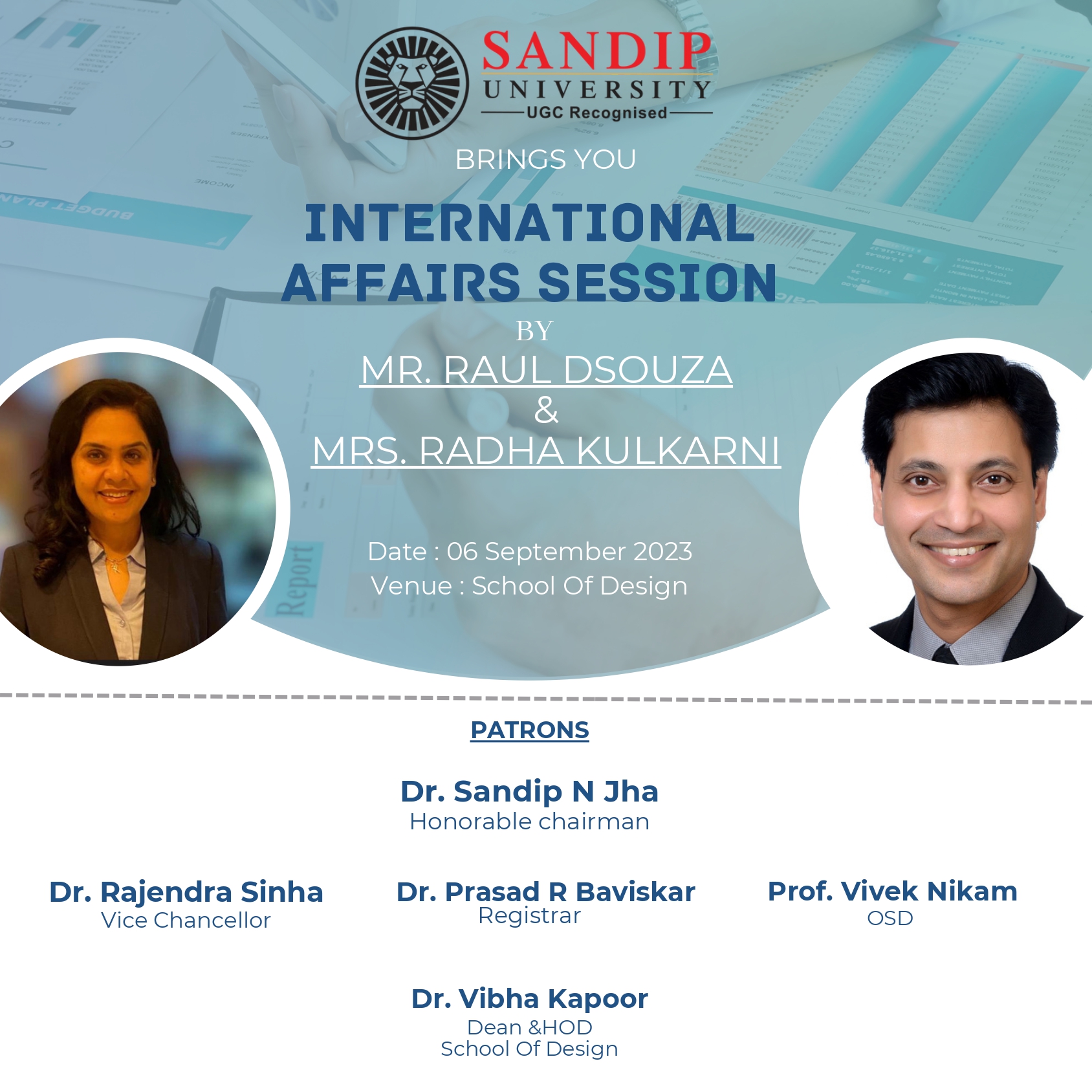 International Affairs Session
72
72 people viewed this event.
International Affairs Session
Session By : Mrs. Radha Kulkarni & Mr. Raul D'Souza
Date : 6 September 2023
Topic: Diving into International Studies Seminar
The International Affairs Seminar held at School Of Design Sandip University, under the mentorship of Respected OSD sir Prof. Vivek Nikam and Dean Dr. Vibha Kapoor Ma'am. The session focused on providing valuable insights into pursuing studies and education in Italy's vibrant design school Istituto Marangoni. The session was conducted by Mrs. Radha Kulkarni and Mr. Raul D'Souza. The keynote speaker for this seminar was Mr. Raul DSouza, an expert in international education and a prominent figure in the field. Students were provided with information about renowned Universities, Colleges, and Academies in Italy offering programs in Fashion Design and Interior Design and Cosmetology. Detailed information on the various study programs, including Bachelor's, Master's, and Short term certificate courses, was shared, highlighting their relevance to the industry. Mr. Raul D'Souza discussed Trend forecasting, Fashion history, Parent branding, Export and Import relations among countries which helped students gain a new perspective. Students had the opportunity to ask questions and seek personalized one on one advice from Mrs. Radha Kulkarni Ma'am and Mr. Raul D'Souza sir, regarding their educational aspirations. This session was a significant step toward promoting International education and fostering cross-cultural learning. The valuable information shared today illuminated pathways for aspiring students to explore their academic and career potential in Italy's thriving Fashion Design, Interior Design and Cosmetology fields. We extend our sincere gratitude to today's guests for sharing their expertise and knowledge during this enlightening seminar. The students actively engaged in the session with enthusiasm in exploring educational opportunities in Italy.