Programs levels
Sandip School of Design is a global hub of enriched creativity with a scientific approach to design. The design industry is growing at an 18% rate annually with tremendous scope for skilled professionals. Our goal is to contribute to the growth of these industries by providing them with knowledgeable and well-trained professionals.
As one of the best design colleges in Maharashtra, Sandip School of Design provides students with the right environment to develop their creativity and understand the academic aspects of design as well. Futuristic labs, classrooms and other facilities make each student's educational journey a thriving success. Our students are encouraged to think beyond the ordinary and develop acute instincts in the field of their choice.
Our School of Design aims at developing students through competitions, workshops, industry exposure and other co-curricular activities. This helps them achieve a holistic education which is beyond the scope of theoretical knowledge while also developing their soft skills and personality. On completing their education, our students are all ready to make a splash in the design industry.
Advantages of Studying Design
---

Design is a thriving industry with ample career opportunities that you can choose from as per your interests.

It is a highly creative field and you will have a lot of options to showcase your talent on the right platform.

You can opt for entrepreneurship to work with diverse clients in the design industry and build your own brand.

There is a lot of scope for designers today as people are becoming more and more conscious of their lifestyle choices.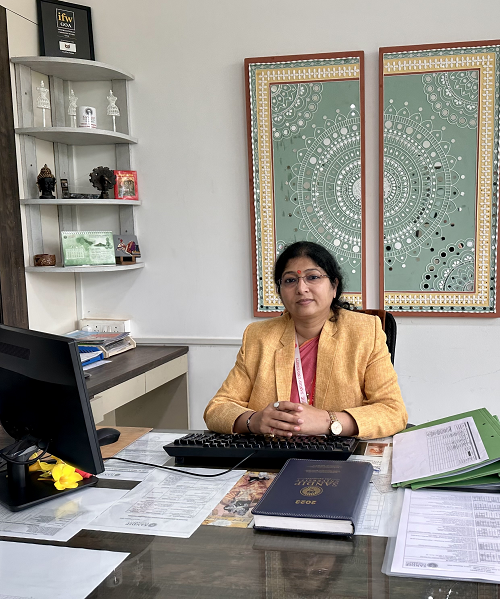 Dr. Vibha Kapoor
Dean, School of Design
There are so many exciting and fulfilling initiatives taking place in our department as we strive to achieve our mission of imparting learner-centred education and nurturing talent congenial to society. We recently started two courses namely fashion and lifestyle design, space & interior design under futuristic degree programs. Various other courses like communication design, information design, industrial design etc. are in the pipeline.
I can say with complete confidence that what makes our college exceptional are the faculty and staff who are dedicated to help our aspiring students to become highly skilled & future ready professionals. The diverse faculty is deeply committed to educating outstanding students to become leaders in their fields, who will, in turn contribute positively to the exciting, dynamic and ever evolving field of fashion design and beauty cosmetology.
We provide education and training for our students in the bachelor and master levels via 5 different programs. The curriculum offers a unique amalgamation of classroom projects, internships, industry visits and interaction with industry experts to provide hands-on experience of concepts to students. We encourage you to visit our beautiful campus and meet our faculty. We are confident that our programs will meet your professional and creative aspirations.
Creativity in the right hands changes everything because it's not what you know; it's what you create with what you know. Make the future catch up to you!
---
Dedicated Design Labs

Skill-Focused Curriculum

Relevant Industry Knowledge

Well-Qualified & Experienced Faculty
ENQUIRE NOW
(field marked with * are mandatory)