Program Levels
About School of Engineering & Technology
---
One of the earliest types of technical education is engineering, which has played a key role in establishing the global benchmark for brilliance across the spectrum of science and cutting-edge technology. Additionally, it has provided the society with many goods and services, improving the well-being of all people. The Faculty of Engineering and Technology plays a crucial part in the development of engineers and technical professionals who play a role in structuring lives in both technological and biological terms. Engineers address problems with a pioneering mindset in order to produce amasing new technical advancements. Our elite faculty league focuses on creating students who are passionate and motivated. As the School of Engineering, we make sure that our students receive a comprehensive education by exposing them to a wide range of academic experiences, such as expert speeches, seminars, workshops, and industrial visits. In order to stay on top of the constantly evolving trends, we continually design platforms for students to showcase their engineering creativity through hands-on projects and exhibitions where they may learn, develop, and engineer the future.
Advantages of Studying Engineering and Technology
---

Complex industries may not function without engineering technicians. As an engineering technician, you develop, manage and improve products or their manufacturing in various industries.

Many of the skills engineers develop and leverage open doors to career advancement, personal growth, and other opportunities. Engineers learn to analyse and solve problems, work in teams, communicate with others, meet deadlines, and lead others.

The usefulness of engineers is in sync with the existence of humanity, as engineering provides practical solutions designed to meet the needs and demands of human society. In other words, engineers will always be needed as long as mankind exists.

The 21st century is characterised by ever-increasing sophistication of innovation, and engineering exposure enables students to effectively navigate new and emerging trends in engineering technology.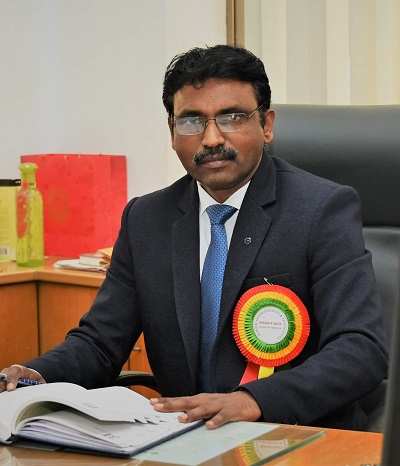 Dr. Prakash G. Burade
Associate Dean - Engineering
Welcome to Sandip University School of Engineering and Technology! As you scan the website, you will find that we are truly a vibrant community where aspirant students prepare themselves to be responsible leaders and lifelong learners through a rigorous engineering education in a liberal environment, mentored by a world-class faculty dedicated to the education of next generation leaders and the creation of knowledge for the betterment of humanity.
In line with the established essence of the University, the School of Engineering and Technology has adopted a basic policy of "contributing to society through engineering, an area of education that pursues to make life more happy and affluent." To make it happen we use the OBE pattern (Outcome Based Education) in our School. An OBE curriculum means starting with a clear picture of what is significant for students to be able to do, then forming the curriculum, instruction and assessment to make sure this learning eventually happens.
The School of Engineering and Technology offers undergraduate and postgraduate and doctoral programs in Civil Engineering, Electrical and Electronics Engineering, and Mechanical Engineering. School also offers undergraduate programs in Aerospace Engineering and Fire Technology and Safety Engineering. All these programs place importance on problem based learning and experiential learning based on engineering concepts and technologies by offering unique education and research opportunities across various fields to produce engineers with global competence.
Our first batch of engineering (undergraduates) will pass out in June 2020. However, because of strong reputation with industry, established during our compulsory internship activity at the end of every year, has helped us in placing our students before they have passed out.
Whether you are a prospective student, or faculty or staff member, I welcome you to our lush green Sandip University campus to explore your place in our community of scholars.

Innovative Pedagogy

Latest Technologies

Cutting Edge Research
Distinguished Faculty
ENQUIRE NOW
(field marked with * are mandatory)