Program Levels
School of Law is a constituent established under Sandip University is the most preferred destination for legal studies in the country which imparts quality legal education. Our goal is to create a set of socially responsible legal professionals who possess the skills that the industry and profession expects of them. Sandip University's School of Law is one of the top law colleges in Maharashtra, as the curriculum of the School of Law has been designed by eminent academicians and professionals with extensive care to cater to the upcoming needs of the legal arena. School of Law is a leading institution in the region to offer a wide range of specialisations enabling students to realise their full potential.
School of Law combines theoretical knowledge with practical sessions in law through Moot Courtroom Sessions, Counselling Sessions, and Guest Lectures. School of Law offers five year integrated degrees in B.A.LL.B (Hons) and B.B.A. LL.B degree (Hons), three year LL.B (Hons) program. The University also offers a two year Master's LL.M. program with specialisations in Constitutional Law & Administrative Law, Criminal Law and Corporate & Commercial Law.
It also first and only Ph.D and Research Centre available at Nasik in Legal avenue.
School of Law is established with the objective of developing a sense of righteousness, equality and fairness in students. Our main goal is to groom a set of socially committed legal professionals who stand for justice under all circumstances. The skills our students learn at our institute are bound to set them apart from the crowd. We provide our students with a unique academic learning ambience to turn into holistic individuals with the help of modern pedagogical tools of legal education. These factors make Sandip University's School of Law one of the best law colleges in Maharashtra.
What are you waiting for? Come and join our family for an exiting academic experience.
Advantages of Studying Law
---

A law degree can open up avenues of work across different sectors. You can work as a prosecutor, work for a private law firm, or start an independent law practice of your own to work with diverse clients.

A legal career can be quite lucrative. Pursuing criminal law, corporate law or even constitutional law can lead to a multifaceted career graph for a bright future ahead. Top law firms in India are always looking for graduates from some of the best law colleges in Maharashtra.

Being a lawyer is a very respectable career. You will be able to garner the love and respect of your peers in society. You can also become a force for change in society by lending your voice to the oppressed and the ignorant. Your legal education could help better the Indian judiciary system in the long run.

You will also have the opportunity to become a judge in the future. You will have to appear for the Provincial Civil Service Judicial Examination (PCSJ). This will enable you to join the practising members of subordinate judiciary and further advance your career in law.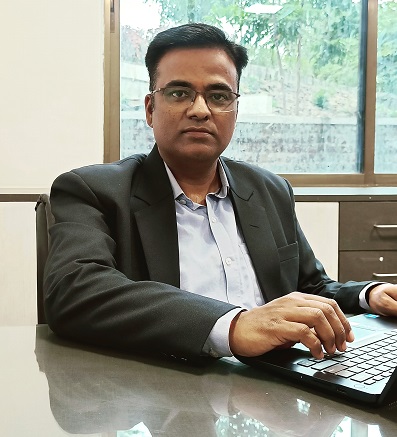 Prof. (Dr.) G. S. Rajpal.
Dean, School of Law Sandip University Nashik
Welcome to Sandip family. Sandip University's School of law situated at Nashik is established in the year 2016 under the aegis of Sandip university/ Sandip foundation. Since then, we are thriving to impart value based legal education.
I am proud to share that School of Law will have is producing some of the best legal encephalon of this country, where their efforts will be acknowledged. Our focus is on overall personality development of the students, inculcating sound understating of the legal system as well as to produce socially committed legal professionals.
We perceive that the theoretical and practical knowledge of law are complimentary rather than conflicting, hence we put more emphasis on clinical/research based legal education, wherein numerous activities like visits to Police station, Central Jail, Cyber Cell, Courts and Tribunals is a very frequent practice. Here we also emphasis on co-curricular and interactive sessions like Moots Court Debates, Legal Quiz Competition. We also provide Internships opportunity to network with great people and sharpen skills of our students before entering the legal workforce. School of Law always makes abundant efforts in inspiring the students by conducting guest lecture series of eminent legal personalities on new emerging legal topics.
Students are always welcome to reach out my faculties, students and alumni to interact regarding their experiences in this legal journey and I promise this school will provide you the best exposure and inculcate excellent quality of legal education in this glorified world.

Dedicated Moot Court

Centre for Postgraduate Legal Studies

Guest Lecture Series with Prominent Judges
Focused Student Development
ENQUIRE NOW
(field marked with * are mandatory)