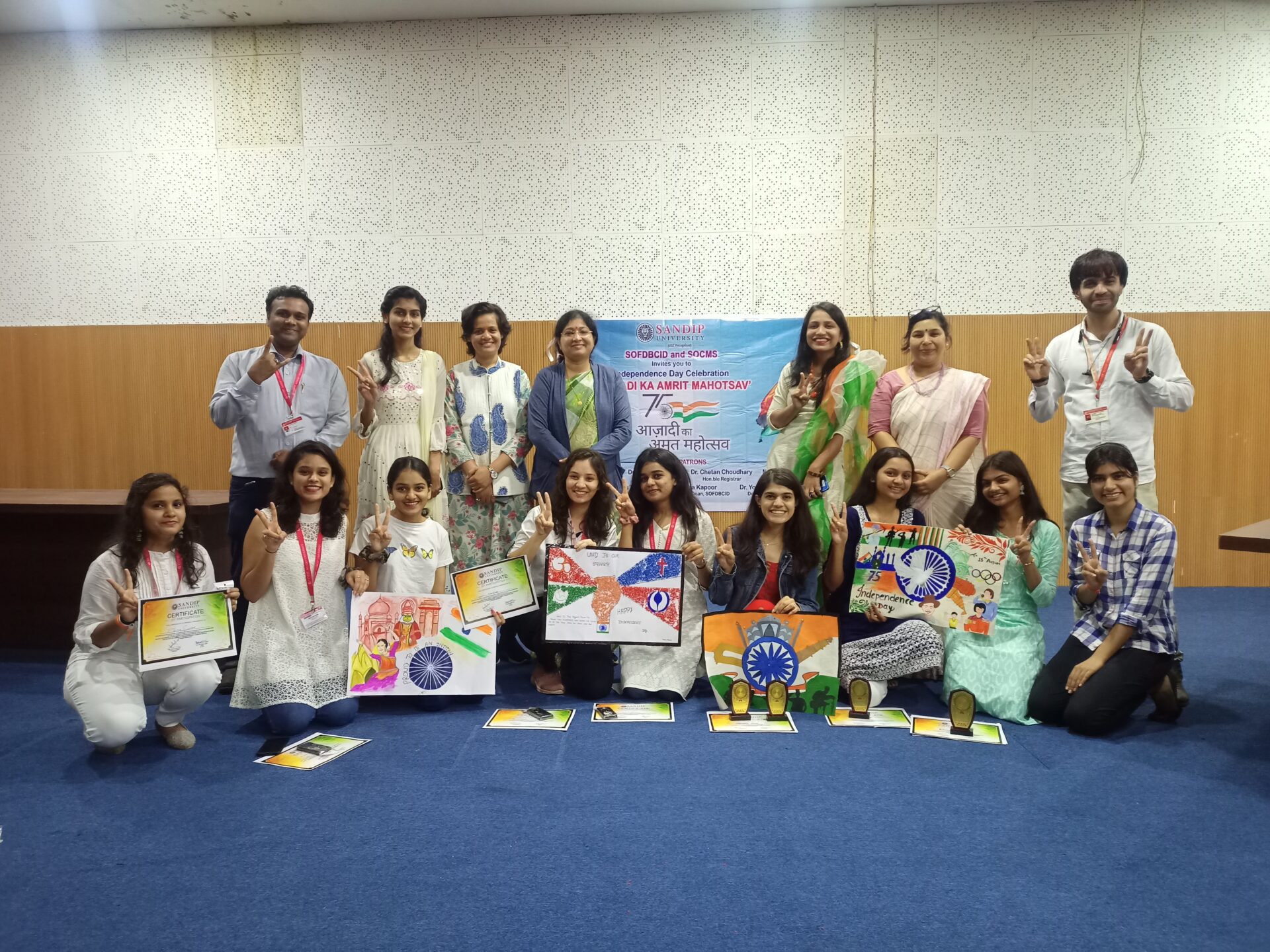 Azadi Ka Amrit Mahotsav Celebration with Poster Presentation Competition by SOFDBCID & SOCMS
553
553 people viewed this event.
Azadi Ka Amrit Mahotsav is an initiative of the Government of India to celebrate and commemorate 75 years of independence and the glorious history of it's people, culture and achievements.
This Mahotsav is dedicated to the people of India who have not only been instrumental in bringing India thus far in its evolutionary journey but also hold within them the power and potential to enable Prime Minister Narendra Modi's vision of activating India 2.0, fuelled by the spirit of Aatmanirbhar Bharat.
The official journey of Azadi Ka Amrit Mahotsav commenced on 12th March 2021 which started a 75-week countdown to our 75th anniversary of independence and will end post a year on 15th August 2023.
In light of the above, Sandip University's School of Fashion Design, Beauty Cosmetology & Interior Design (SOFDBCID) in association with School of Commerce and Management Sciences (SOCMS) resolves to participate pro-actively in Mahotsav by conducting Poster Presentation Competition with themes related to the freedom struggle, ideas, achievements and actions so that the students can absorb the magnitude of sacrifices this nation has seen for its independence, the progress it has made socially, politically and economically over the decades and celebrate the diversity that it holds. The objective is to increase awareness and interest in the nation's journey and prospective growth.
The participants were provided with proper guidelines for making posters. Students and staff actively participated in the event. A Jury Committee was formed composed of members who are experts in this field. The committee was headed by Prof. (Dr.) Vibha Kapoor, Dean, SOFDBCID and Prof. (Dr.) Yogesh Jain, Dean, SOCMS. Three teams were chosen as the top three rank holders. Winners were awarded with trophies and certificates. All rank holders, as well as the participants, received participation certificates and gifts.
The vote of thanks was proposed by event coordinator Prof. (Er). Siddhartha Dharane, Assistant Professor, SOFDBCID. He expressed his vote of thanks towards Hon'ble Chairman Dr. Sandip N. Jha, Hon'ble Vice-Chancellor Prof (Dr.) Rajendra Sinha, Hon'ble Registrar (Dr) Chetan Chaudhary, Hon'ble OSD (Mr) Pramod Karole, Hon'ble OSD (Mr) Vivek Nikam, Respected Dean, SOFDBCID, Prof. (Dr.) Vibha Kapoor, Respected Dean, SOCMS, Prof. (Dr.) Yogesh Jain and all the staff members of SOFDBCID and SOCMS for the successful organization of the event.