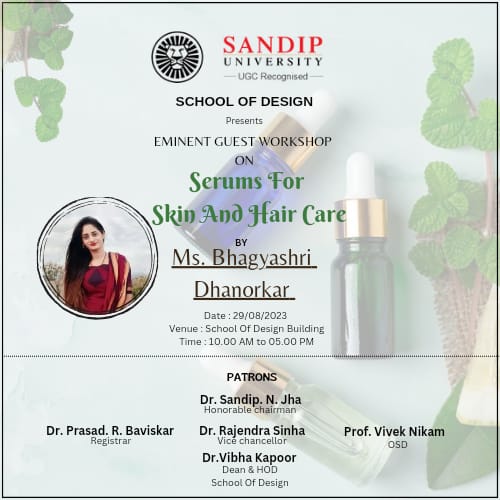 Combining Science and Design: Serum Making Workshop
44
44 people viewed this event.
Session by: Ms. Bhagyashri Dhanorkar
Date: 29 August 2023
Topic: Combining Science and Design: Serum Making Workshop
The Serum Making Workshop was organized by School of Design, Sandip University under the mentorship of Respected OSD Sir Prof. Vivek Nikam and Dean Dr. Vibha Kapoor Ma'am. This workshop was conducted by Ms. Bhagyashree Dhanorkar from Khamgaon who is the founder of NM City Wellness Centre and NM Organics where she produces customized cosmetic products and herbal healthcare. This workshop was aimed to educate students about the art and science of creating skincare serums using natural ingredients. The session began with basics of skin and skin types, skincare, and the role of serums in a skincare routine. Participants learned about different skin types, common skin concerns, and the benefits of using customized serums. The core of the session involved hands-on demonstrations of serum formulation. Students were guided through the process of creating serums tailored to their skin needs. They learned how to combine different ingredients to achieve desired outcomes such as hydration, acne treatment and more. The workshop focused on promoting a modern approach to skincare by teaching students how to formulate serums that cater to individual skin needs and concerns. The session encouraged students to adopt a mindful and informed approach to skincare, promoting the use of natural ingredients and sustainable practices. This has helped students gain a new experience by formulating and producing the serums by themselves.