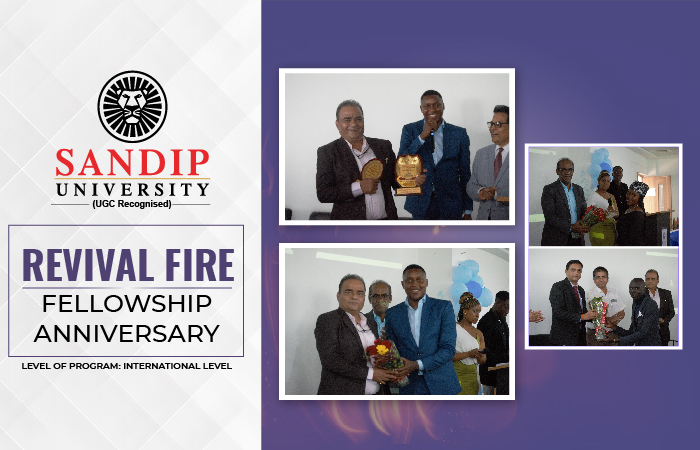 Revival Fire Fellowship Anniversary.
28
28 people viewed this event.
Event Title: Revival Fire Fellowship Anniversary.
School/Department Name: International Affairs Cell , Sandip University,Nashik.
Event Date: 18th August to 20th August 2023.
Time: 10.00 AM to 05:00 PM
Duration in days: Three Day
Level of Program: International Level
Name of Event Coordinator with contact details: Dr. Dipak Patil (95454 53265) & Dr. Ram Kumar Solanki (86985 82404)
Number of participants attended: 150
Event Outline, Objective and Outcome of the event:
Outline of Program: Department of International Affairs and Revival Fire Fellowship organized a 3 Days fellowship anniversary celebration at Sandip University, Nashik. On the 18th of August 2023 various international students from different Universities in India arrived for the event which took place on the 19th in O Building Seminar Hall. The University provided accommodation for the visiting students at The Utsav Hotel in MIDC Ambad, Nashik. Transportation of Students from hotel to campus venue was provided by Sandip University. A dinner event was arranged and held at Ginger Hotel from 8pm to 11 pm in conclusion of the anniversary celebration. The event was organized under the guidance of Director International affairs Dr. Dipak Patil, and Dr Ram Kumar Solanki and Revival Fire fellowship Team.
Outcome: Honorable Chairman of Sandip University, Dr Sandip Jha presented a warm speech of wisdom during the facilitation ceremony. Dr Ram Kumar Solanki played a major role as chief coordinator during Facilitation ceremony. Also In attendance was Hon'ble Vice Chancellor Prof ( Dr.) Rajendra Sinha ,Registrar Dr. Prasad Baviskar,  Hon'ble OSD & Academic facilitator Prof. Pramod Karole and Prof. Vivek R Nikam  were present  during the event.