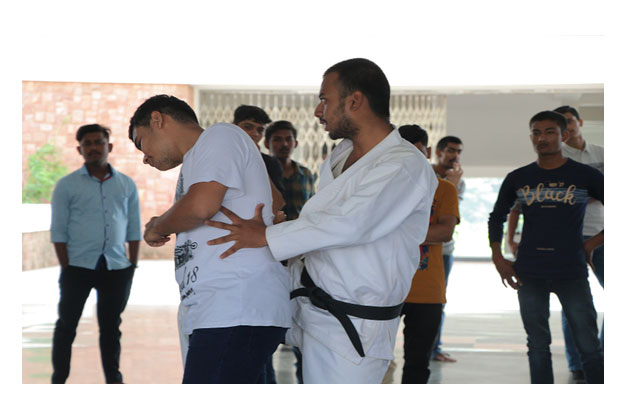 SESSION ON SELF DEFENSE TRAINING (KARATE)
555
555 people viewed this event.
Event Description:
Event Title: Session on Self Defense Training (Karate)
Event Conduction Duration: 9.30 AM to 10:30 AM
Event Date: 18th July 2019(F.Y) & 20th July 2019(D.S.Y)
Event Venue: 'Y' Building, Sandip University, Nashik
Department/ School Name: Sandip University, Nashik Campus.
Name of Resource Person:
Dr. Paresh Rege, Physical Director, Sandip Foundation's SIEM
Mr. Ritik V. Gadhave, B.Tech, T.Y Mechanical Engg. SOET(+91-9423038917)
Name of Event Coordinator with contact details:
Prof. Arif Mansuri (9545453203)
Prof. Ashoo Gupta Khan (9545453268)
Prof. Neetu Sharma (8830094157)
Objective of Program
The main objective of Self Defense session was to learn the demonstrate various defensive techniques which can be used to defend themselves in an odd situation. This workshop was mainly focused on karate techniques to protect themselves from the violence which is happening now a day in society. It gives body flexibility at the same time it also helps to maintain proper body posture, increases power and also increases confidence.
Outline of Program
SUN Self Defense Club member Mr Ritik V. Gadhave, a B.Tech, T.Y Mechanical Engg. The student in SOET, SUN conducted a session on Self Defense( Karate). The students were informed about the importance of one's life to maintain a good physique and also to ensure self-protection in odd situations.
Output of Program
The students started the session with warm up followed by power exercise & stretching. After that students learnt the basics of kicks, punches & blocks.