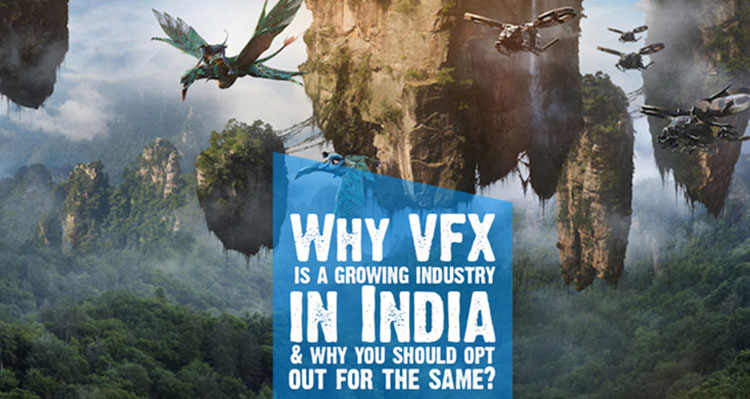 Why VFX Is A Growing Industry In India & Why You Should Opt Out For The Same?
With the rising trend in the industry, the VFX is growing at an impeccable growth rate. We are experimenting a huge standards gap from other Western countries, but however the times are changing a lot.In a recent years, the VFX industry in India has taken a storm with some of the great work that has been displayed recently.Apart from the big budget & successful films like Bahubali & Krish, there are some of the corporationshave become tech savvy.
In the last 5 years, the VFX industry has grown 6.2x times than the previous decades. Most popularly there are some of the big Hollywood studios outsourcing video editing work to some of the professional companies in cities like Banglore, Pune, Mumbai, Chennai, etc. According to the recent survey conducted by FICCI reported by KPMG, the VFX industry has been growingalone to 51.1%. While every year, there are more than 15,000 professionals required in this industry. One of the key indicators of growth of this industry is that the government initiative 'Make in India' has been actively investing in this industry through their'Digital India' scheme. Also the fact is the government is making extra efforts to train & groom the people that increase the employment opportunities. Considering the fact, the VFX industry is currently valued at Rs. 121 billionand will almost double up by the year 2025. Nevertheless, the VFX is not only used infilm making but also the corporate presentation, websites, gaming, APP development and other branding materials. It is expected to grow at the several areas in the last couple of years & contributes to a huge economic growth. On the other hand, some of the premier universities like Sandip University has time & again embarked the innovative challenges in the education industry and has introduced the advanced VFX animation studies under the guidance on some of the well-known & experienced professors. It will be advisable for the students to watch out for & what opportunities that VFX offers in your career.