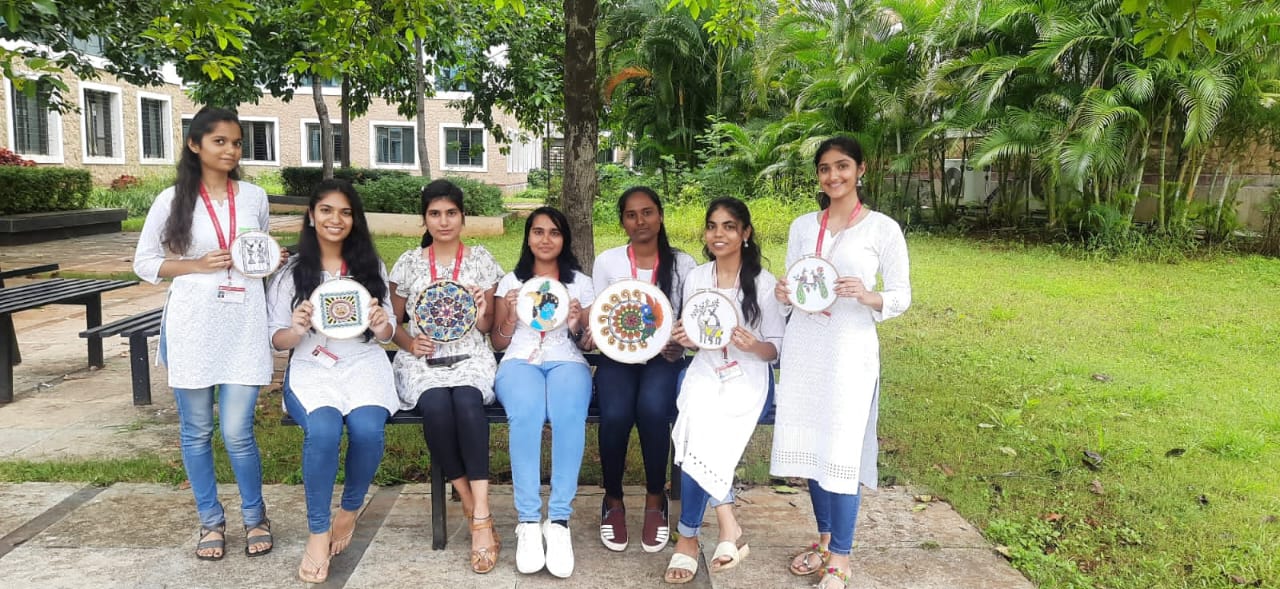 Folk Art Fabric Painting Workshop
732
732 people viewed this event.
Details about the Activity:
Subject Activity: History of Indian Textile and Fashion
Date of Activity: 24th September 2022
Time of Activity: 08:00 pm to 03:00 pm
Venue: School of Design, Circular Building, 3rd Floor, at Sandip University, Nashik.
Participants: BSc. Fashion Design 2nd Year / III Semester
Activity Objectives:
To create the skill in fabric painting
To develop creativity and learn techniques of fabric painting
To decorate fabric with painted designs
To know the history and tools used for fabric painting
Knowledge of painting tools
Builds creativity
Learns different strokes in fabric painting
Learns various techniques in fabric painting
To train students to get self-employment
Display of fabric paintings in exhibitions
Activity Description:
One of the most creative medium in which one can express is through painting and various types of painting mediums can be used to present thoughts on various surfaces, especially in textiles. Fabric painting can be used to decorate everything from clothing to home furnishings like curtains and tablecloths. It opens all sorts of possibilities for creative expressions, allows you to create unique one-of-a-kind works of art, and it isn't hard to do. It is possible to paint any fabric, but tightly woven natural fabrics like cotton and silk are easiest to decorate if a crafter is attempting to create images. In this activity, all the participants at the initial stage did a little research on all kinds of folk arts in all the states of India and eventually beautifully hand-painted the respective state-wise folk arts on the cotton fabric. Keeping the end uses in mind all the participants painted the motifs/design on the fabric. The activity was very beneficial for the students as it was all about creativity, and as young upcoming Indian fashion designers, students must know about Indian art so that they can use their research and this activity's experience in the future in designing. B.Sc. Fashion Design 2nd year/III semester students participated, did great teamwork, and enjoyed the activity. The outcome of this activity was very impressive.
Materials used:
Embroidery Hoops
Cotton Fabric
Acrylic Fabric Paint
Painting Brushes
Painting Pallet
Procedure:
Research on the folk arts in the states of India.
Draw the selected motif/design on paper.
Wash and iron the fabric.
Cut the fabric according to the required size and insert it in the hoop.
Lightly draw the motif/design on the fabric.
Paint the fabric according to the Motif/design drawing.
Students Feedback:
Jagruti Suryawanshi: Fabric painting was informative in terms of folk art of different states of India. Under the guidance of a wise faculty, this difficult task felt easy. An amazing experience indeed!
Gauri Patil: I got to learn so many things about every single art my classmates presented.
Janhavi Kulkarni: It was an amazing experience doing fabric painting with the proper theme of folk art.
Ishita Kapadia: The workshop was very good, giving practical exposure to various folk art.
Dhanashree Wani: Got a deep understanding of art and culture.
Bhumika Indvekar: It was very knowledgeable and got aware of the unknown facts and topics.
Sejal Sonawane: Learned teamwork and got information about different states.
Aastha Dubey: The workshop was amazing, knowledgeable, and informative and I enjoyed it a lot.
Radhika Aadhikari: Got knowledge about which fabric is more suitable for painting and learned teamwork.
Divya Singh: Learned about colors and was very creative and informative.
Rutuja Aher: It was very informative to me and we got knowledge about paintings state vise and I liked the workshop.
Shital kale: Informative and lot of research increased my knowledge.
Kirti Patil: My topic was the pichhwai painting which belongs to Rajasthan and it was very creative and knowledgeable.
Aishwarya Mishra: I felt the workshop was creative and fun I enjoyed it.
Manaswi More: I felt good and it was difficult at the start but still very interesting.