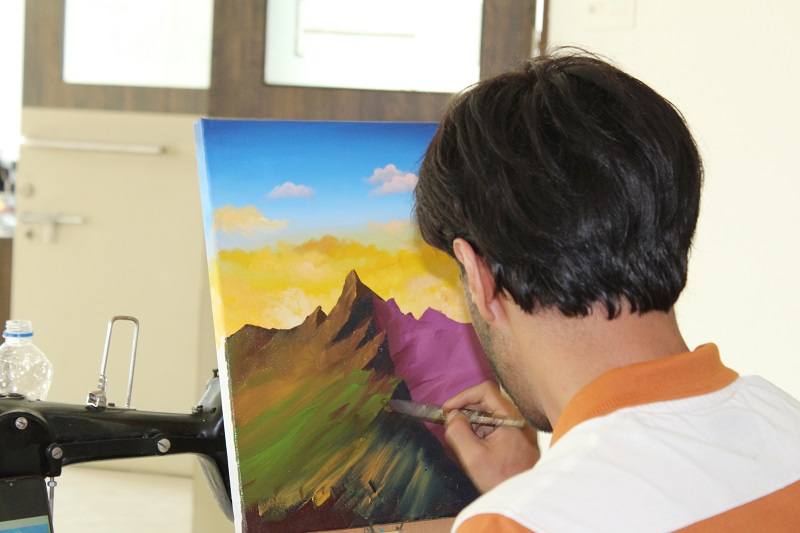 Canvas Painting Workshop
597
597 people viewed this event.
Event Title: Canvas Painting Workshop
Venue Details: By School of Fashion Design & Beauty Cosmetology & Interior Design (SOFDBC&ID)
Event Date: Saturday, April 9, 2022
Department: By School of Fashion Design & Beauty Cosmetology & Interior Design (SOFDBC&ID),
Event Details:
Art has the power to inspire, uplift, and transport—but only if you let it. As a canvas-focused painter, you're already in the unique position to harness the full potential of art, and appreciate the incredible depth and variety of experiences it can offer. But the first step towards unlocking your full potential as an artist is learning the basics. If you've ever picked up a paintbrush, you know the satisfaction of creating something beautiful with your own two hands. Canvas is a great medium for expressing your creativity because the paint can be applied right onto the surface, without any additional preparation. Canvas is also weather-proof and suitable for outdoor works, making it a great option for creating works of art outdoors. Best of all, canvas is affordable and easy to work with, making it a great option for beginner painters looking to try their hand at something more challenging.
Keeping your mind and body sharp is important throughout our entire lives, but it becomes even more important as you age. While staying physically fit is important for your health, finding a creative outlet keeps your mind strong while also expanding your horizons. Painting provides a fun, new hobby that sharpens your mind and delivers numerous health benefits like. Painting boosts memory recollection skills and works to sharpen the mind through conceptual visualization and implementation. Painting also allows individuals a chance to express their feelings and emotions without words. It can be tough opening up sometimes, so painting is a great way to release inner thoughts. Additionally learning colours is an integral part of design curriculum. Colour can play an important role in conveying information, creating certain moods, and even influencing the decisions people make. Colour preferences also exert an influence on the objects people choose to purchase, the clothes they wear, and the way they adorn their environments.
Keeping this in mind, Sandip University's School of Fashion Design and Beauty Cosmetology conducted an innovative workshop of canvas painting workshop under the guidance of Assistant Professor and Professional Fine Artist Er Siddhartha Dharane on Saturday, April9, 2022.Siddhartha Dharane has achieved one international, three national and eight state championships in painting and is running his own art gallery over a decade. He is renowned for endlessly reinventing himself, switching between styles so radically that his work seems to be the product of multiple artists rather than just one. His narrative paintings, executed in a modified realistic style, can be caustic and playful as well as serious and sombre. His themes, sometimes treated in series, include topics as diverse as nature, wildlife, historical architectures, monuments and motifs of Indian urban and rural life. He enjoys depicting the lively and free spirit of mythology in many of his works.
In this canvas painting workshop, students learned the fundamentals of this popular artistic medium. We started with an overview of canvas materials and techniques, and move onto the techniques students need to know to create stunning artwork on their own. From there, we spent some time working together to practice the techniques we've covered, and applied them to a series of fun, hands-on exercises. Over the course of the day, we spent time working on a variety of different projects. Each project focused on developing a new skill, testing student's creativity, and exploring a different style of painting. Some of the projects we worked on included: applying layers of paint to a canvas, creating abstract designs using a brush, and painting flowers using a pencil. Each project provided an opportunity to practice a new skill, and allowed students to test their creativity and explore a different style of painting. By the end of the session, students felt comfortable creating their own unique masterpieces on canvas.