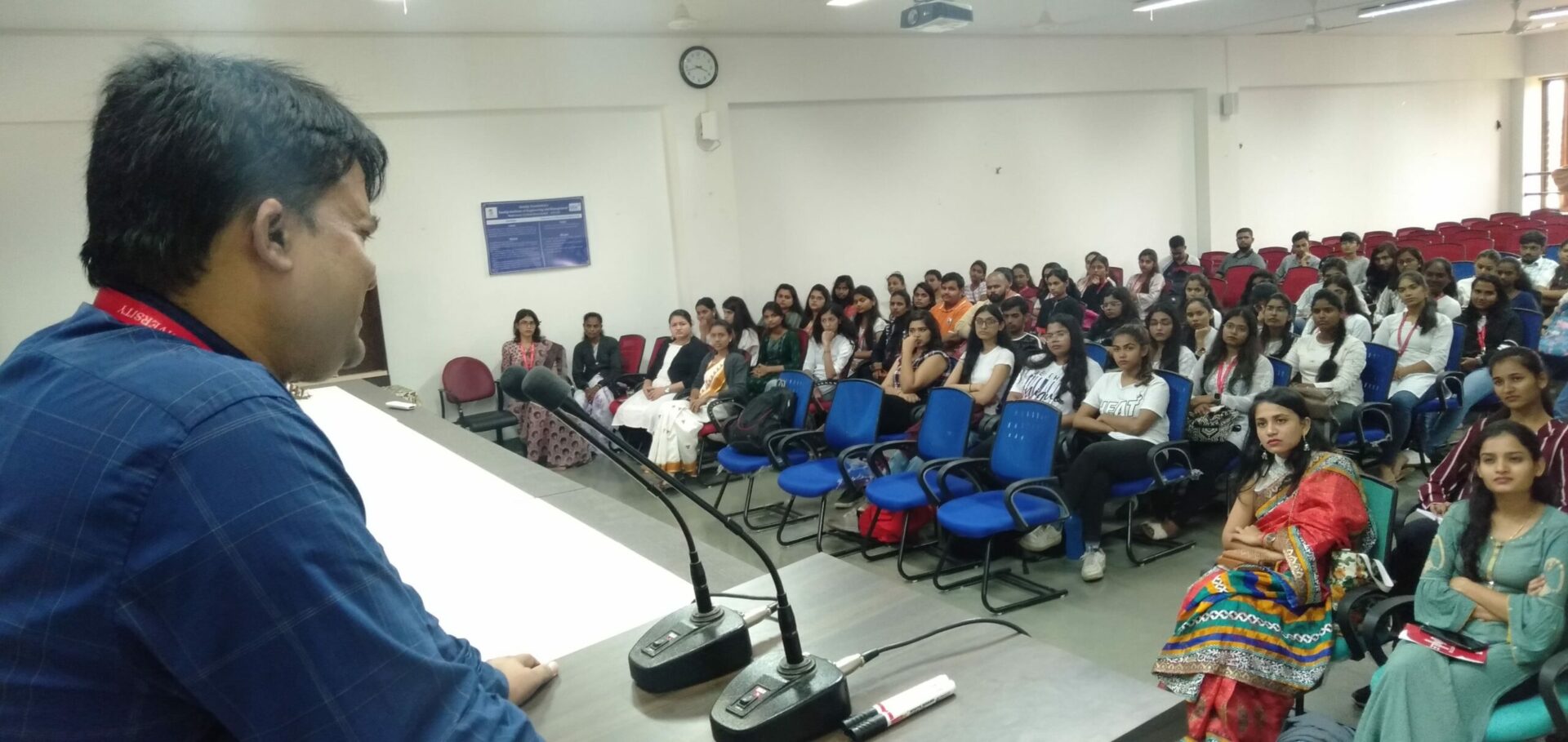 Expert Lecture on Public Speaking and Soft Skills Development by Dr Siddharth Shankar
244
244 people viewed this event.
Event Title: Expert Lecture on Public Speaking and Soft Skills Development by Dr Siddharth Shankar
Venue Details: By School of Fashion Design, Beauty Cosmetology & Interior Design (SOFDBC&ID)
Event Date: Tuesday, September 26, 2022.
Department: Sandip University ,School of Fashion Design & Beauty Cosmetology
Event Details:
The industry has changed a lot since the time when designing used to be just a bunch of papers and figures. The design presentation has evolved into a professional practice with a scope to make an impact on the business decisions of the clients. Public speaking is one of the most important skills that you can develop. Not only it is an opportunity to showcase your talents, but it can also be a lucrative career option. A public speaking career can be a very rewarding experience. It can give you the opportunity to share your knowledge and views with others, and it can make you a public figure. If you're considering a career in design, make sure you know the importance of preparing for a speech at presentation of your designs. The industry has also become very competitive, with each and every designer trying to outdo its rivals. This has led to an increase in the demand for high-quality presentation. Keeping this in mind, Sandip University's School of Fashion Design, Beauty Cosmetology & Interior Design conducted an innovative expert lecture on Public Speaking and Soft Skills development, Monday, September 26, 2022, under the expert guidance of Dr Siddharth Shankar.
There are several reasons why public speaking must be learnt. First of all, public speaking provides a great opportunity to practice and expand on the skills that have been learnt. This is a great way to test the waters and see how well the skills that have been learnt really work. Secondly, public speaking provides a great way to showcase ones knowledge and skills to the world. The importance of industry public speaking cannot be emphasized enough, and it is one of the most important skills that any marketer must have.
The first segment of this Public speaking workshop focused on the topic of public speaking. The second segment of the workshop was a review of the structure and format of a good communication, including a deep dive into the key components of a communication, including the executive summary, topic analysis, language and vocabulary section, and the competitive landscape. A guiding template was provided by the Dr Siddharth Shankar for the public speaking followed by interactive question and answer session with the students.
"One of the biggest advantages of learning public speaking is that it gives you the opportunity to learn how to convey your message to the clients in a professional manner. This not only enhances your credibility as a marketer, but also helps you build positive relationships with the clients. It also enables you to become an authority in your industry, which in turn increases the demand for your services and products. All of this leads to proper closure of design projects." – said respected Dean Dr Vibha Kapoor during the session.
The workshop on Public speaking was a very good event. The event was hosted by Prof Er Siddhartha Dharane. It taught students about the importance of public speaking and how to go about it. The bulk of the course was spent on understanding the content of the communication and how to go about speaking in a good way. It also introduced students to the techniques used by industry experts.