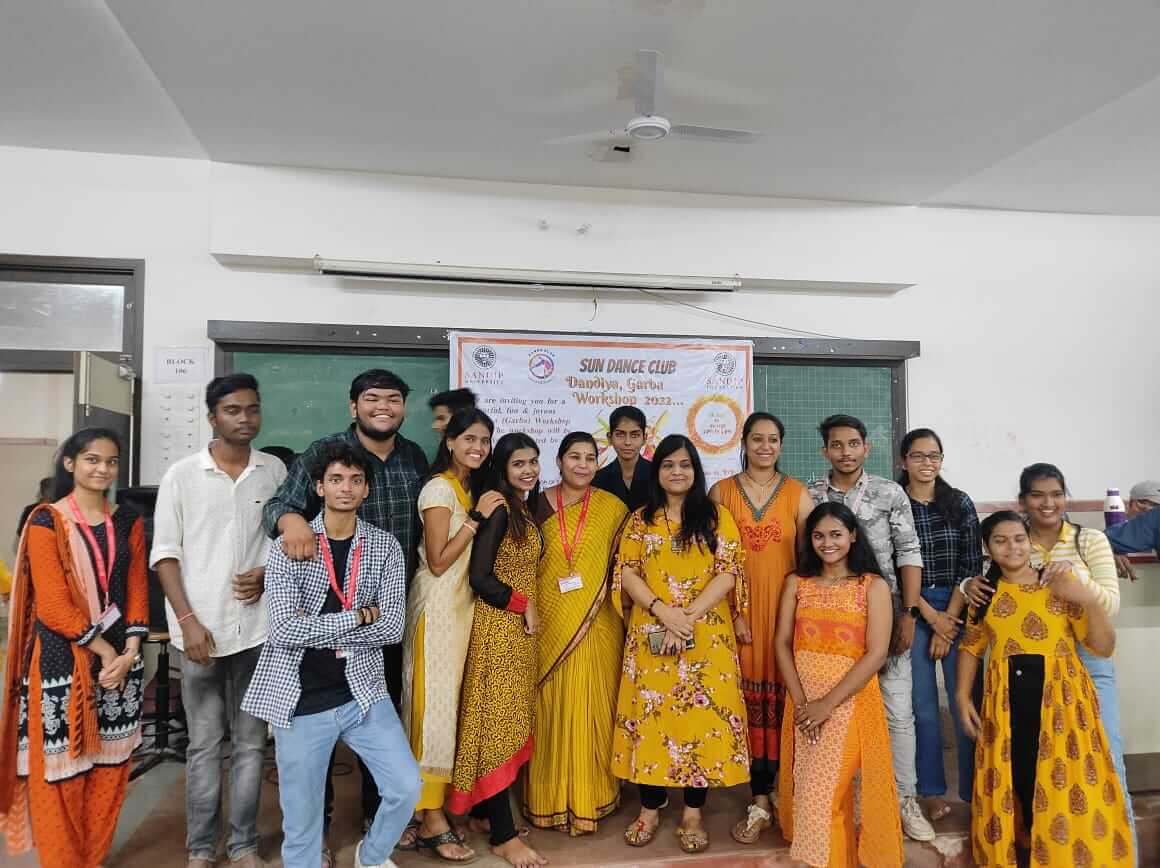 Garba and Dandiya worshop
285
285 people viewed this event.
Department/School Name: Sandip University
Academic Year: 2022-2023
Report on: Dance worshop
Event  Tittle: Garba and Dandiya worshop
Event Date: 26th september 2022
Event Conduction Duration: 3:00 to 5:0
Event Venue: offline(EG room/Drawing hall y building)
Name of Event Coordinators with contact details:
Mehul Patil(+919309819201)
Shams Mansoori(+919321622316)
Milind Bholane(+918080810322)
Tanuja Mahajan Mam: Guest choreographer(+919822522293)
Radheye Baheti(+917620916613)
Atharva Kadam(+919766829295)
Ashutosh Patil(+919021396594)
Aayushiaditi Verma(+917400449373)
Nachiket Shinde(+918888340770)
Sweta Maurya(+919136831439)
Priyanka Kushawaha(+918263978110)
Kaustubh Ahvarkar(+918329177818)
Nikita Jiwani(+918847756535)
Rutwik Gosawi(+918530703281)
Jayash Ahire(+919423704101)
 Om Mande(+917447642822)
Disha Patil(+919819909104)
Neha Anilkumar(+918105678712)
Gandhali Deshpande(+917875530331)
Event Outline & Outcome of the event:
Outline of Program:
All schools under the SUN formed a club named SUN Dance Club under the guidance of our Honorable director and student welfare Prof.Mr Arif Mansuri Sir and Deputy director student  welfare Prof.Ms Neetu Sharma ma'am , and above event coordinators including governing bodies of SUN Dance Club and student managing team.We conducted our 1st workshop on account of the aspicious occasion navraatri with dance form garba,as it's centre of attraction of this festival.Almost a huge number that is 154 students were present in the workshop.Some of the new 1st year students newly enrolled in Sandip university were also present in workshop with full energy and enthusiasm.
Under guidance of overall disipline faculty coordinators Prof. Bonny Ghosh and Dr.Vishal sir we were able to maintain such m huge crowd.They gave their precious time to the workshop and helped us in fullfilling our objectve and everything was carried out smoothly.
Objective of Program:
The main objective of this workshop was to spread the feeling of festival and teach them garba which is the centre of attraction of the festival. And SUN Dance club showed their active participation as they want the diamonds hidden within the mines to sparkle and florish coming up with confidence to show their talents.We aim at providing a platforms to the emerging performers.
Details of Program:
We started our workshop at 3:00 pm under the guidance of Tanuja ma'am.She taught us different steps of garba and though the crowd was huge ma'am and our responsible coordinators managed it well and the 4 day workshop commenced smoothly.The session was ended everyday at 5:00 pm sharp.