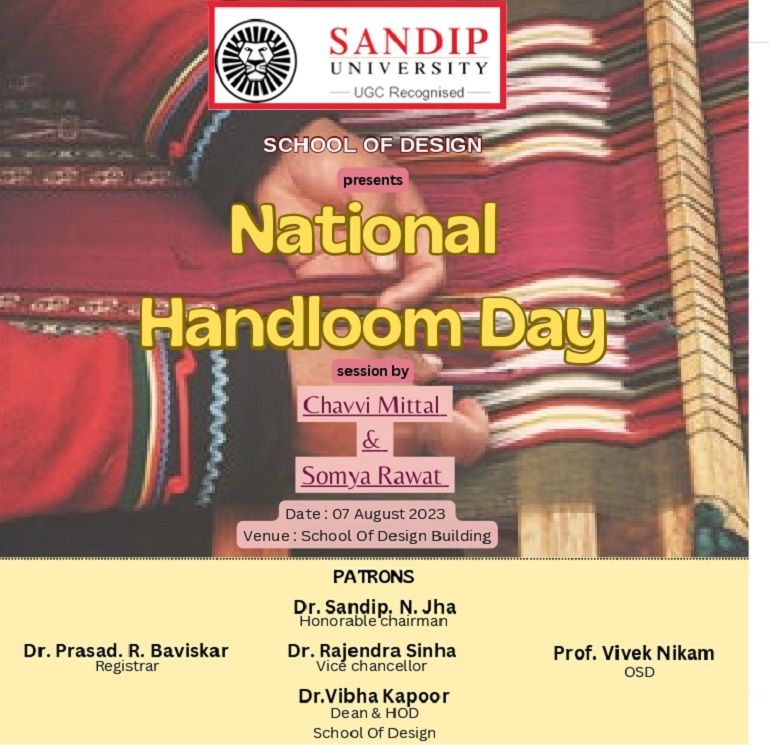 Handloom Day Workshop
58
58 people viewed this event.
Handloom Day Workshop
 Ms. Chhavi Mittal and Ms. Somya Rawat
Date: 7 August 2023
Topic: Handloom Heritage Workshop in School of Design
The Handloom Day Celebration Workshop was organized by School of Design, Sandip University under the guidance of Respected OSD Sir Prof. Vivek Nikam and Dean Dr. Vibha Kapoor Ma'am to commemorate the rich heritage of handloom weaving and to promote awareness about the significance of supporting local artisans and traditional craftsmanship. The workshop aimed to provide participants with insights into handloom weaving techniques, the importance of preserving this art form, and its contribution to sustainable fashion.
The workshop started with a documentary on Handloom, its start, and its importance in Indian Independence then the basic introduction to weaving started with students eagerly understanding the new skill of plain weave with the touch of tapestry. The students understood the value of this day and created the crafts by themselves in a sustainable way by using all the leftover and waste wood and fabric. This workshop has served them as a core experience of weaving.