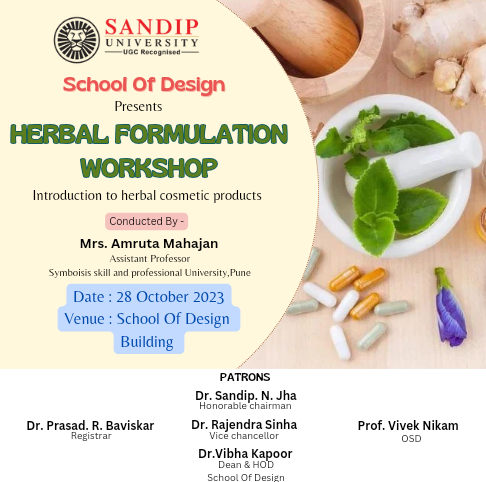 Herbal Formulation Workshop
74
74 people viewed this event.
Session By : Mrs. Amruta G. Mahajan
Date: 28 October, 2023
Topic: "Herbal Formulation Workshop Empowers Students with Natural Remedies"
The School of Design hosted a captivating Herbal Formulation Workshop on October 28, 2023. under the guidance of Respected OSD Sir and Respected Dean Ma'am . Workshop skillfully led by Mrs. Amruta Mahajan, a renowned expert in herbal formulations. Enthusiastic students eagerly participated in the workshop, embracing the opportunity to delve into the realm of herbal remedies. Mrs. Amruta imparted her extensive wisdom and practical know-how, guiding attendees in the creation of natural remedies from a variety of herbs and plants. Under her expert tutelage, participants acquired the art of blending herbs and plants to craft safe and effective herbal formulations. They deepened their understanding of the diverse properties and applications of herbs, mastering the techniques to create remedies that support health and well-being. The workshop not only expanded participants' knowledge of herbal formulations but also fostered a profound appreciation for the abundant natural resources available for promoting wellness. It served as a hands-on journey into the world of harnessing the healing potential of herbs and plants. Mrs. Amruta Mahajan's expertise, coupled with the School of Design's dedication to practical learning, made this Herbal Formulation Workshop a valuable addition to participants' understanding of herbal remedies. It equipped them with the skills needed to develop natural solutions for various health and wellness needs.