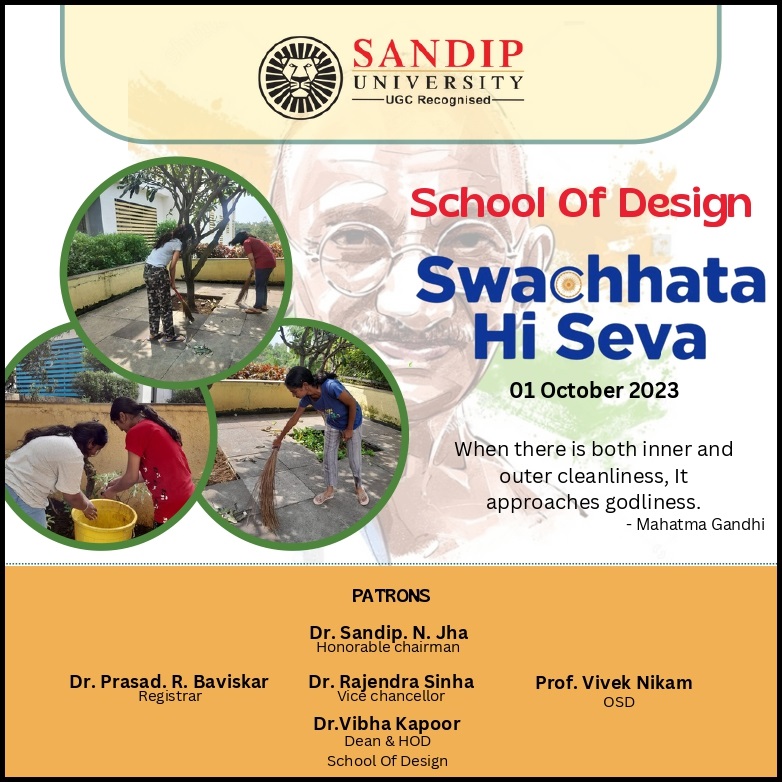 Honorable PM Modi's Cleanliness Drive on 1 October 2023
156
156 people viewed this event.
Session By : School of Design Students 
Date : 1 October 2023
Topic: Cleaning Together for a Greener Tomorrow : Sandip University School of Design Joins Honorable PM Modi's Cleanliness Drive.
On 1st October 2023, following Honorable Prime Minister Narendra Modi's call for a cleaner India, Sandip University School of Design enthusiastically took part in a cleanliness drive. Under the   guidance of Respected OSD Sir and Respected Dean ma'am . Every student gathered with excitement , geared up with gloves, brooms, and bins. Their goal? To clean and spruce up the hostel premises in just one hour.
With a shared sense of purpose, the teams spread out in the hostel premises, focusing on different areas. They swept corridors, picked up litter, and showed immense dedication to make their surroundings cleaner and greener.
The unity and enthusiasm displayed during this drive were truly inspiring. It showed the importance of working together for a cleaner environment. This event not only showed the school's support for the Honorable Prime Minister's vision but also made every participant feel proud and responsible.
The impact of this drive doesn't end with just one day ,it sets an example for ongoing efforts in keeping the hostels clean and promoting a sense of responsibility and sustainability. Sandip University School of Design is committed to being an active part of such important national initiatives, nurturing responsible citizens who value a clean and hygienic environment.