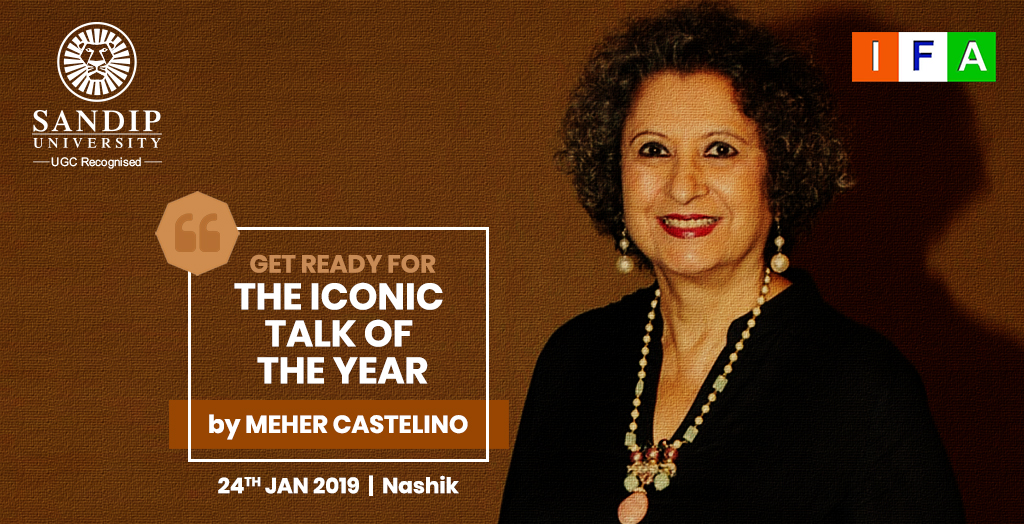 ICONIC TALK SERIES – MS. MEHER CASTELINO
904
904 people viewed this event.
Event Description:
Event Title: Iconic Talk Series
Event Conduction Duration: 11.30 AM to 1.30 PM
Event Venue: Y Building, Sandip University, Nashik
Name of Event Coordinator with contact details:
Ms. Sowmya T.S (8446935855)
Event Outline:
School of Fashion Design and Beauty Cosmetology, Sandip University, Nashik and Indian Fashion Academy jointly had organised ICONIC TALK OF THE YEAR – An interaction session with Ms. Meher Castelino- a Former and the First Beauty Queen of India who crowned Femina Ms. India Contest in1964.
Event Objective:
The Iconic Talk Series is a unique, remarkable and one of its kind initiative of School of Fashion Design and Beauty Cosmetology. As the start of this series, Ms. MEHER CASTELINO – a legendary Fashionist and Fashion Journalist had addressed the students on the topic 'Life after Fashion Institute and What Fashion Industry Wants'
Event Outcome:
She shared the experience of her journey as a Fashion Designer and Author. Students were overwhelmed by the joy of interacting with her. Few of the students were recognized for their talent and also got offers opened for them to work under famous designers.
Event Date
24 January 2019
EVENT SPEAKERS
Former Femina Ms. India
Renowned Fashionist & Fashion Journalist
Speaker