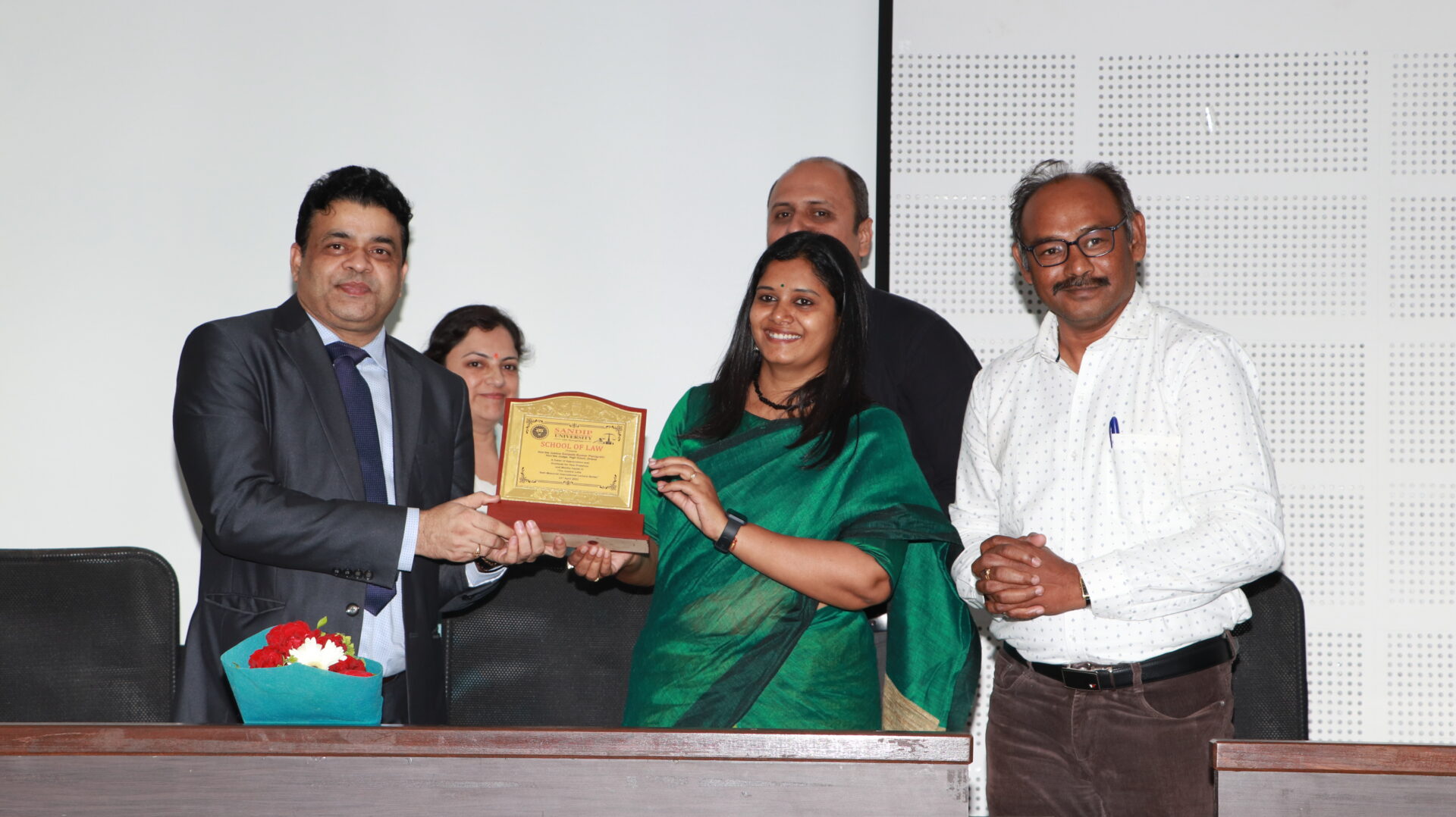 Implementation of the POCSO Act, 2012 by Special Courts: Challenges and Issues
458
458 people viewed this event.
School/Department Name: School of Law
Event Title: Implementation of the POCSO Act, 2012 by Special Courts: Challenges and Issues
Event Date: 23rd April 2022
Time: 2PM to 4PM
Duration in days: One Day
Mode of conduction: Offline
Level of Program: Inter-university
Event Resource Person Details: Hon'ble Jt. Sanjeeb Kumar Panigrahi, Judge at High Court of Orissa
Name of Event Coordinator with contact details: Dr. Bhavana Kadu, Dean, School of Law, 9923699759
Number of participants attended: 100
Event Outline, Objective and Outcome of the event:
Outline of Program: The School of Law, Sandip University organizes a number of special lectures for students with the aim of bringing them in contact with persons of repute in varied areas of law. It is, furthermore, intended to promote cultural, legal and ethical values with a view to promote and foster the rule of law and the objectives enshrined in the Constitution of India. Eminent people from judiciary, law firms, industry and academia are invited to deliver lectures and interact with students
Objective of Program: The Objective is to increase students' awareness of POCSO Act and its application in modern day.
Outcome: Hon'ble Justice Panigrahi extensively elaborated on the provisions of POCSO Act, 2012 and its implementation through interpretations of numerous cases. Justice Panigrahi elaborated POCSO Act which prescribes very limited structural requirements for Special Courts. These prerequisites include the designation of Special Courts, appointment of Special Public Prosecutors (SPP), and the use of certain tools to prevent contact between the child victim and the accused at the time of evidence. The POCSO Act also vests the Special Courts with the responsibility of ensuring that the atmosphere is child-friendly, but does not elaborate on structural modifications required for the same. Though the Act does not contain any explicit requisites in order to ensure a "child-friendly atmosphere", many factors could be considered to ascertain the structural friendliness such as whether exposure of the child to the accused is prevented outside the courtroom, whether there are easily accessible toilets and drinking water facilities, whether there are designated waiting rooms or spaces, whether the court hall and all its facilities are accessible to children with disabilities. Though the Act does not mandate it, it is important to bear in mind the possibility of exposure of the child to the accused before entering the courtroom.
Hon'ble Justice Panigrahi's lecture was followed by prize distribution for the Intra-Moot Court Competition held on 21st,22nd& 23rd April 2022 and Poster Making Competition held on 16th April. Hon'ble Justice Panigrahi congratulated and encouraged the students for future endeavours.