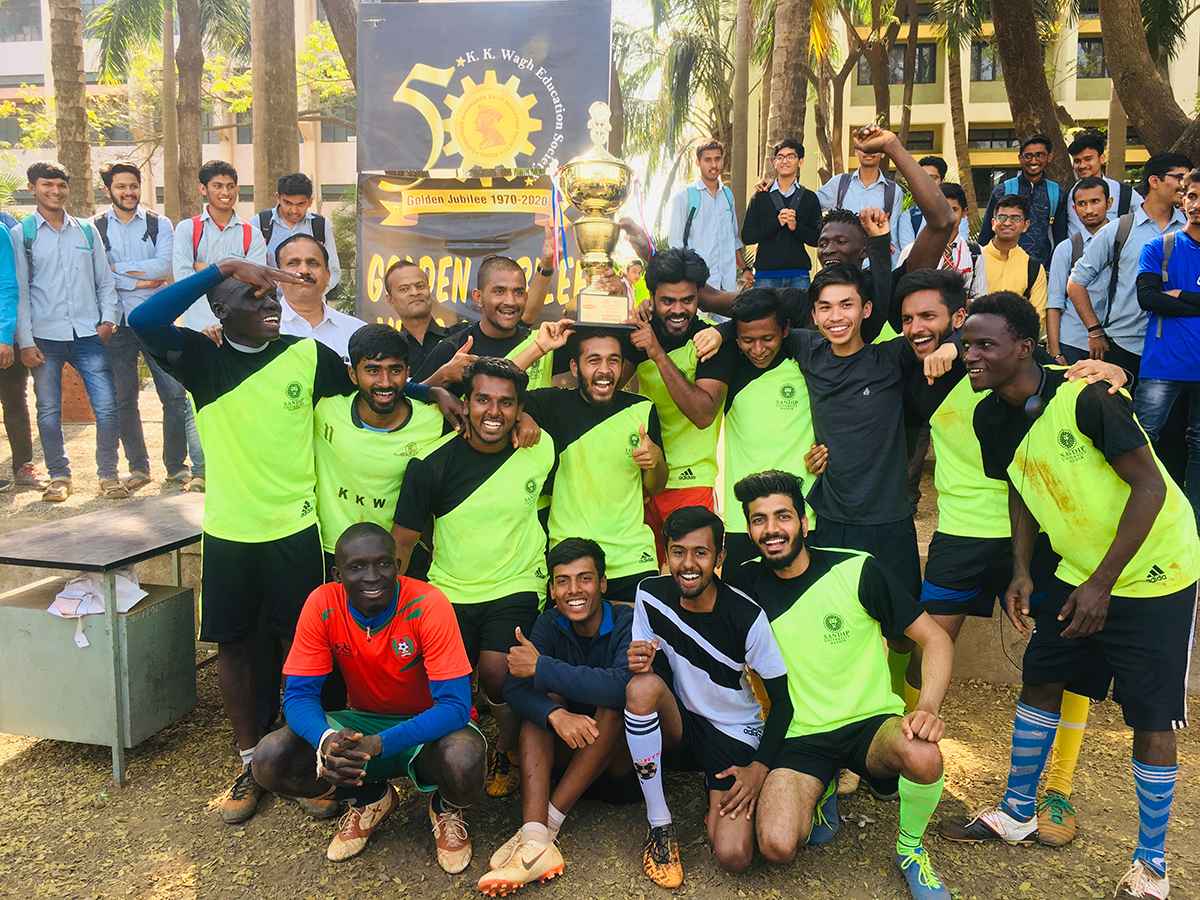 KSF FOOTBALL TOURNAMENT 2019 – At K.K. Wagh, Nashik
1172
1172 people viewed this event.
Event Description:
Event Title: KSF Football Tournament 2019
Event Date: 16th to 22nd February 2019
Event Conduction Duration: 6 Days
Event Venue: K.K.Wagh, Nashik
Name of Event Coordinator with contact details:
Pritam Pawar, 7770065787
Event Outline & Outcome:
Outline of Program: As a tradition followed every year, K.K.Wagh, Nashik organized Karmveer Sports Fest, KSF 2019 from 16th February 2019 to 22nd February 2019 at K.K.Wagh, Nashik. Total 14 teams from various institutes of Nashik participated in this tournament.
On 21st February, 2019 SUN Football Team created History and stood as a winner in the Final match after defeating the Home team of K.K. Wagh by score 1 – 0. The team was trained under the visionary guidance of Coach Mr. Yogiraj Deore, a third year B.Tech Civil Engineering student of SUN and leadership of Captain Mr. Akhilesh Bora, a third year B.Tech CTIS student. The team was awarded by a Winning Trophy and a Cash Prize of Rs. 12000/- . Further to mark the achievement, SUN Football team never conceded any goal in the entire tournament due to the excellent efforts of the Goalkeeper, Mr. Quintino Infanque, a resident student from Guinnea-Bissau, South Africa.
Hon. Shri Nityanandji Jha, President SUN, Hon. Dr. Sandip Kumar Jha, Chairman SF and Hon. Col. Dr. N.Ramachandran, Vice-Chancellor SUN congratulated the SUN team on this achievement.
Event Date
16 February 2019