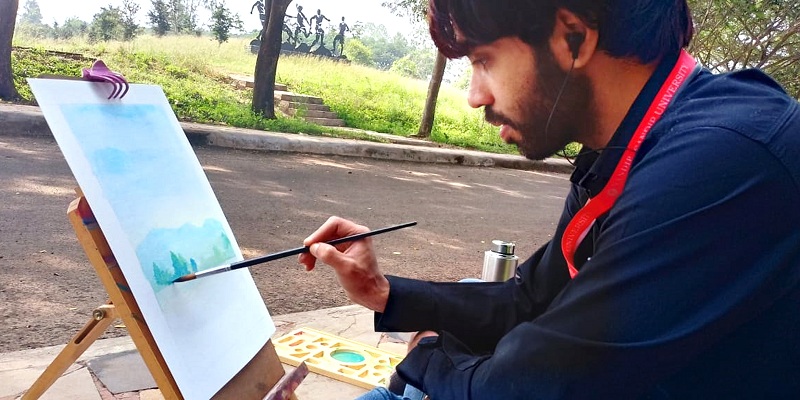 Live Watercolor Landscape Painting
536
536 people viewed this event.
Event Title: Live Watercolor Landscape Painting
Venue Details: By School of Fashion Design, Beauty Cosmetology & Interior Design (SOFDBC&ID)
Event Date: Saturday, December 18, 2021
Department: Sandip University ,School of Fashion Design & Beauty Cosmetology
Event Details:
Keeping your mind and body sharp is important throughout our entire lives, but it becomes even more important as you age. While staying physically fit is important for your health, finding a creative outlet keeps your mind strong while also expanding your horizons. Painting provides a fun, new hobby that sharpens your mind and delivers numerous health benefits. Painting boosts memory recollection skills and works to sharpen the mind through conceptual visualization and implementation. Painting also allows individuals a chance to express their feelings and emotions without words. It can be tough opening up sometimes, so painting is a great way to release inner thoughts.
Stress is a problem everyone deals with to some degree during all stages of life. High levels of stress and anxiety contribute to mental health issues. Painting and other artistic pursuits offer an emotional release or outlet for the people that struggle with stress or are having a stressful moment in their lives. Focusing on painting allows a person's mind to relax and let go of all the problems and demands that may have led to stress.
Creating beautiful work through painting encourages a more optimistic approach to life. Painting also produces a relaxing, open environment where artists feel safe to explore their own creativity. Artists pour out their emotions through the process of painting. This practice encourages individuals to look at their own emotional state and take stock of the emotions they may not even realize they have.
While painting might not contribute much to the physical fitness, the cognitive benefits to overall health are incredibly valuable. Given all the beneficial attributes to this artistic hobby, it is clear that painting builds strong mental health in individuals of every age.
Keeping this in mind, Sandip University's School of Fashion Design, Beauty Cosmetology & Interior Design conducted an innovative activity of paining live landscapes today, Saturday, December 18, 2021. Students of Fashion Design started painting the various scenic landscapes of university since early morning and continued throughout the day. Soon other students of campus, including our international students couldn't resist and joined the expenditure the quench their thirst of art and at the end of the day we had a beautiful exhibit of this campus located in the lap of nature.