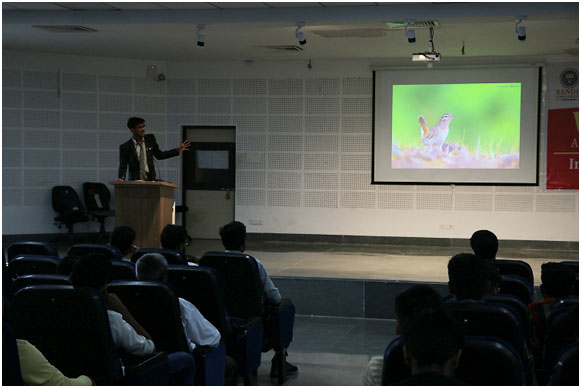 LIVING YOUR PASSION- THE ART OF SEEING IN WILDLIFE PHOTOGRAPHY
435
435 people viewed this event.
Event Description:
Event Title: Living your Passion-The Art of Seeing in Wildlife Photography
Event Conduction Duration: 12:30PM to 01.00 PM
Event Date: 19th July 2019
Event Venue: 'Y' Building, Sandip University, Nashik
Department/ School Name: Sandip University, Nashik Campus.
Name of Resource Person:
Mr. Saswat Mishra, Student (8007341263),T.Y. B.Tech Electrical, SOET, SUN
Name of Event Coordinator with contact details: 
Prof. Arif Mansuri (9545453203),
Prof. Ashoo Gupta Khan (9545453268),
Ms. Neetu Sharma (8830094157)
Objective of Program
The objective is to ensure that students get interested in co-curricular and extracurricular activities which are promoted at the University. Saswat explained the various activities conducted under SUN Photography Club. He also involved students in topics like Photography Skills & shared his experiences as a Wildlife Photographer. The session was dedicated to enhance student's various passions and innate talents.
Outline of Program
Under the Foundation Course 2019, an interactive session was organized on "Living your Passion- The Art of Seeing in Wildlife Photography" by T.Y. B.Tech Electrical student Saswat Mishra at Sandip University, Nasik Campus. Students were encouraged to identify their passion & nurture it.
Output of Program
The session provided a platform for students to get encouraged and to display their interests in various club activities by participating in their activities.
Event Date
19 July 2019