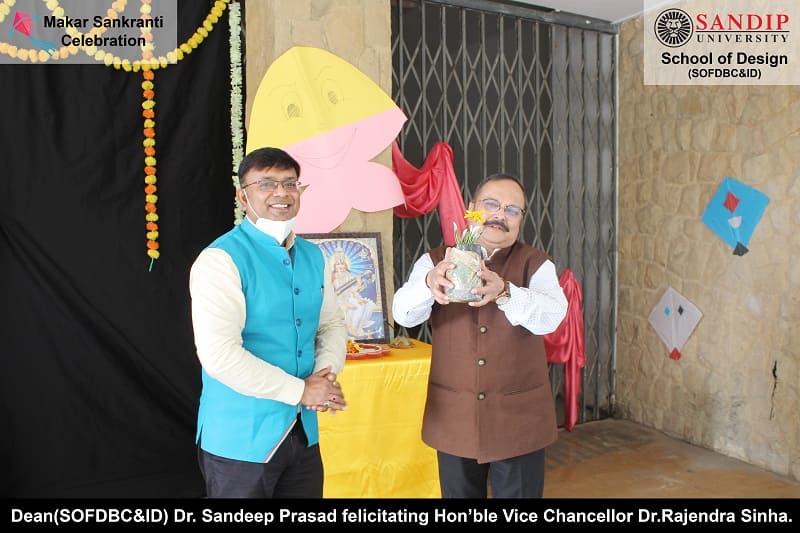 Makar Sankranti Celebration By School Of Design (Sofdbc & id)
525
525 people viewed this event.
Event Title: Makar Sankranti Celebration By School Of Design (Sofdbc & id)
Venue Details: By School of Fashion Design, Beauty Cosmetology & Interior Design (SOFDBC&ID)
Event Date: 14 January 2022.
Department: Sandip University ,School of Fashion Design & Beauty Cosmetology
Event Details:
Devoted to Surya Devta or Sun God, the auspicious occasion of Makar Sankranti is celebrated on January 14 each year and, in case of leap year, on January 15 that particular year. Considered as the day on which Sun transitions into Capricorn, Makar Sankranti is celebrated with great pomp and enthusiasm.
On this day, farmers across India pay tribute to Sun God, and wish for a good crop. In different regions of the country, the festivities are known by different name, for e.g., as Magh Bihu (Assam), Maghi (Punjab), Sakraat (Haryana), Pongal (Tamil Nadu), Push Sankranti (West Bengal), Sankranthi (Andhra Pradesh and Telangana) etc. Another customary and popular practice associated with this festival is kite flying. In Gujarat's Ahmedabad, since 1989, the day has been observed as International Kite Festival.
This year, the School of Design(SOFDBC & ID) organized an Online Kite Making Workshop and Competition for students followed by a Kite Flying programme for all the university staff.. The programme, the Dean of School of Design said in a statement, will underline the importance of Makar Sankranti in 'our cultural and spiritual heritage.' Both teachers and students participated with great enthusiasm in the programme. Dignitaries like Hon'ble Chairman Dr.Sandip N. Jha, Hon'ble Vice Chancellor Dr.Rajendra Sinha, Hon'ble Registrar Dr.Chetan Chaoudhary flew their kites sky high during the programme. Under the guidance of the Dean of School of Design and in the supervision of H.O.D. Prof. Heamnat Chhatre, the entire team including Er.Siddhartha Dharane, Mrs.Nikita Nilkanth, Ms.Bhakti Joshi, Mrs.Nayana Borole, Ms.Vaibhavi Patil, Ms.Priti Ahirrao, Ms. Monal Kothule and the students of School of Design took brilliant efforts to make this event a grand success.