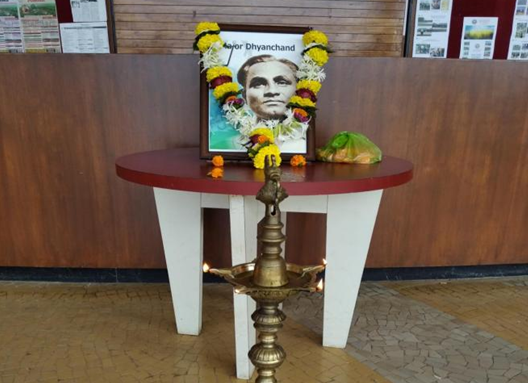 National Sports Day
300
300 people viewed this event.
Event Title: National Sports Day
Venue Details: Department of Physical Education & Sports
Event Date: 29th August  2021, 03.00 PM to 04:00 PM
Department: Department of Physical Education & Sports
Duration in days: One Day
Mode of conduction: offline
Level of Program: Department/School-University Level
Event Resource Person Details: Hon. Vice Chancellor Dr. Rajendra Sinha, Mr. Vivek Nikam , Registrar Dr. Chetan Choudhari, Dr. Anil Maheshwari, Dr. Naktode,
Name of Event Coordinator with contact details: Dr. Paresh Rege (7276791039)
Number of participants attended: 47
Event Details:
Event Outline, Objective and Outcome of the event:
Outline of Program: Department of physical Education & Sports has organized National Sports Day on 29/08/2021 at administrative building of Sandip University, Nashik.  Sports person of Sandip University from various Colleges were present for the event.
The event was organized under the guidance of Hon'ble Vice Chancellor Dr. Rajendra Sinha.
Objective of Program: The objective of National Sports Day of India is to inspire the youth of the nation to participate in various sports and prove their ability in the respective field. Sports play a very important role in our life, and they are a source of global fame now a day.
Outcome: In the inauguration function of National Sports Daylamp lighting done by Hon. Vice Chancellor Dr. Rajendra Sinha, he also delivered his valuable words regarding remembering Major Dhyanchand and need of Physical fitness in today's scenario. Our national player of Aquatics Ms. Anuja Ugle has felicitated on the event.