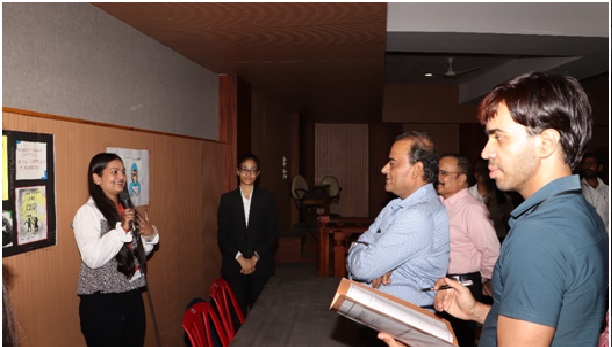 Poster Making Competition 2021-22
689
689 people viewed this event.
School/Department Name: School of Law
Event Title: Poster Making Competition 2021-22
Event Date: 16thApril 2022
Time:  2.00 PM to 5:00 PM
Duration in days: One Day
Mode of conduction: Offline
Level of Program: Department/School-Level/Inter-college/School Level.
Event Resource Person Details: NIL
Name of Event Coordinator with contact details: Mrs.Rakhee Poonawalla, Mrs. Boony Gosh, Mr. Ganesh Gadekar, Ms. Anuja Nehe, Ms. Apurva Mahajan, Mr. Nehal Ahmad, Ms. Tanvi Goyal.
Number of participants attended: 22
Event Outline, Objective and Outcome of the event:
Outline of Program: School of Law organized a Poster Making Competition in the Moot Court Hall. The event was organized under the guidance of Associate Dean Dr. Bhavana T Kadu.
Objective of Program:The objective behind organizing the poster making competition is to bring out the creative expression of students and to gauge their knowledge and awarenesson the hot topics around the globe.
Outcome: The young learners displayed their artistic skills through an array of posters. Around 22 students participated in the competition with immense zeal and enthusiasm and made beautiful posters which gave us the message on various themes such as child labor, anti-ragging, cyber-crimes, domestic violence, environmental awareness. It was a great opportunity to watch these young minds