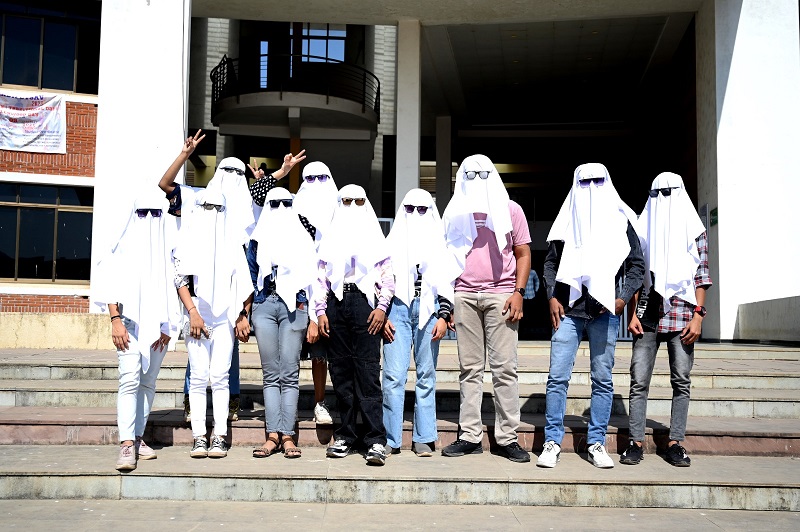 Report on Sandipotsav 2K23 Mismatch Day, Ghost Day, Cartoon Day Celebration
793
793 people viewed this event.
 Event Title: Mismatch Day, Ghost Day, Cartoon Day Celebration
Event Date: February 8th, 2023
Event Conduction Duration: 10:00 AM to 12:00 PM
Event Venue/ Event Mode: SUN S Building and O building/ Offline
Name of Event Coordinator with contact details:
Mr. Hiralal Solunke (SOCSE) 9765857069

Mr. Tushar Kaloge (SOCSE) 80077 77701

Dr. Vipin Borole (SOCSE) 94217 4402
Event Outline, Objective and Outcome of the event:  
A 'Mismatch Day' was planned at Sandip University, on February 8, 2023, on the occasion of Sandipostav 2k23. Students were required to be get ready in "mixed up" and "unmatched" clothes to University. This event was coordinated by Mr. Hiralal Solunke. A team of 10 members has been formed who will work dedicatedly to complete this event successfully.
Students were urged to come out of their comfort zones and come up with new and creative ideas using their imagination and wearing clothes to reflect their mismatched personalities. Students came dressed innovatively to celebrate the 'Mismatch Day'.
They wore different pairs of socks and shoes. Not only did they mix up their shirts and pants but also their hairstyles and traditional with party wear and so on. The aim was to enable the students to understand the concept of proper dressing according to the occasion. Most of the students posed well in their mismatched attire.
On the occasion of Ghost Day, students dressed up like a ghost to scare others, some people are there with face paintings and as a special ghost.
Cartoons are an essential part of every childhood and without a doubt the most entertaining aspect in every kid's life. They help kids learn about the world around us about new emotions, life issues and other important things. The students came well dressed in their favorite cartoon characters. The Cartoon Day was a day full of positive messages and one to rejoice.