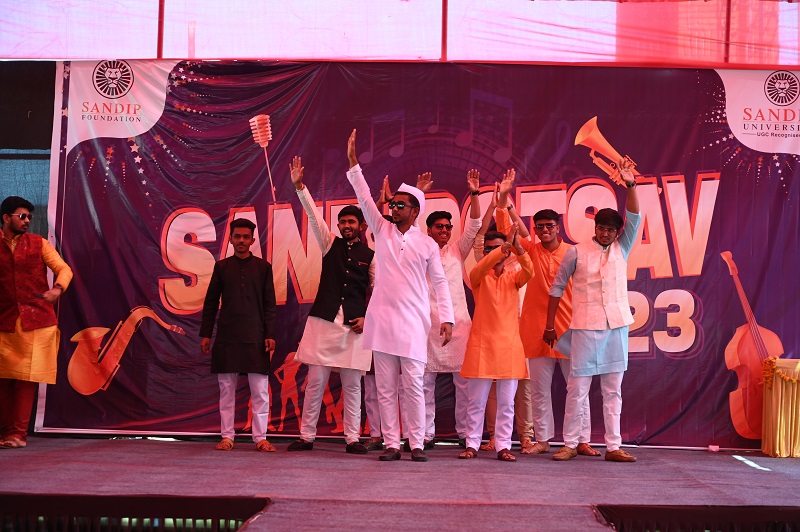 Report on Sandipotsav 2K23 – Traditional Day, Group day, Bollywood Day Celebration
731
731 people viewed this event.
Event Title: Traditional day, Group day, Bollywood day Celebration
Event Date: February 9th, 2023
Event Conduction Duration: 10:00 AM to 12:00 PM
Event Venue/ Event Mode: SUN S1 Building near Clock Tower/ Offline
Name of Event Coordinator with contact details:
Durgesh Borse (SOET) (8605115016)
Sneha Shirke(SOET) ,(8390957731)
Sayali Chauthe (SOD)
Deepali Sanap(SOET)
Ujjawala Gaikwad(SOET)
Event Outline, Objective and Outcome of the event: 
Traditional day designated for all to come in traditional attire from their home state, or specific culture of their choice. Everyone at the University came dressed in their best ethnic attires. University celebrated the Traditional Day to promote "Unity in diversity "which is based on the concept where the individual or social differences in physical attributes, skin colour, castes, creed, cultural and religious practices, etc. are not looked upon as a conflict. Rather, these differences are looked upon as varieties that enrich the society and the nation as a whole. Traditional Day was held on the February 9th, 2023 in Sandipostav 2k23 at the Sandip University.  It was an eventful day. It was observed as a celebration of India's diverse culture. It's a day designated for people to come in traditional attire from their home state, or specific culture of their choice.  Students were completely in their high traditional competitive spirit. Their inner creativity and potentialities were driven through these traditional competitions.
Group day celebration has its relevance because of the fact of togetherness and unity. It brings all our students, faculties, management together. Students learn different cultures, understand various festivals, interact with everyone and moreover respect the values.
The University celebrated Group day, where groups of student wore similar-themed outfits – such as Punjabi costumes like kurtas and turbans, or traditional Maharashtrian attire. Others wore T-shirts and jeans specially designed for the occasion. The youngsters could be seen clicking photos and selfies, and enjoying various programmes and competitions organized on the day.
University turned into sets of the film not due to the film shooting because it was a Bollywood day. Bollywood has long influenced Indian society and culture as the biggest entertainment industry; many of the country's musical, dancing, wedding and fashion trends are Bollywood-inspired. Students had a blast showing their talents on the stage which included ramp walk, dances and skits. This event was coordinated by Mr. Durgesh Borse. A team of 10 members has been formed who will work dedicatedly to complete this event successfully. Prizes were given to winners by Judges.