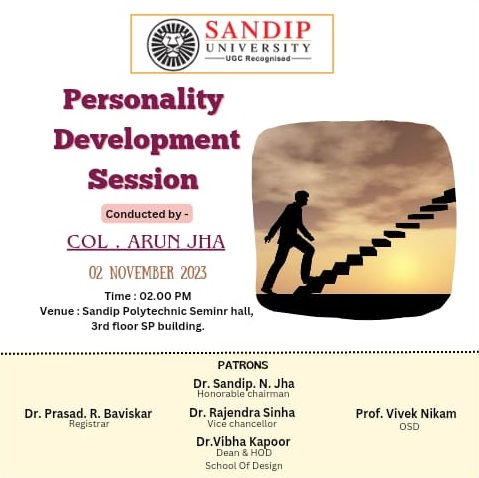 Unlock Your Creative Potential: A Journey of Personal Growth
58
58 people viewed this event.
Topic: Unlock Your Creative Potential: A Journey of Personal Growth
Session By: Col. Arun Jha
Date: November 2, 2023
At the School of Design, we believe that great design goes beyond aesthetics; it's a reflection of one's personality and inner self. On November 2, 2023, Sandip polytechnic college hosted a transformative Personality Development Session led by the distinguished Colonel Arun Jha.
Col. Arun Jha, an authority in the field of personal development and leadership, captivated our students with his insights and wisdom. His session delved into the connection between personal growth and design, emphasizing the importance of nurturing creativity from within. The Session was divided into two parts – Presentation and Personality Development Workshop.