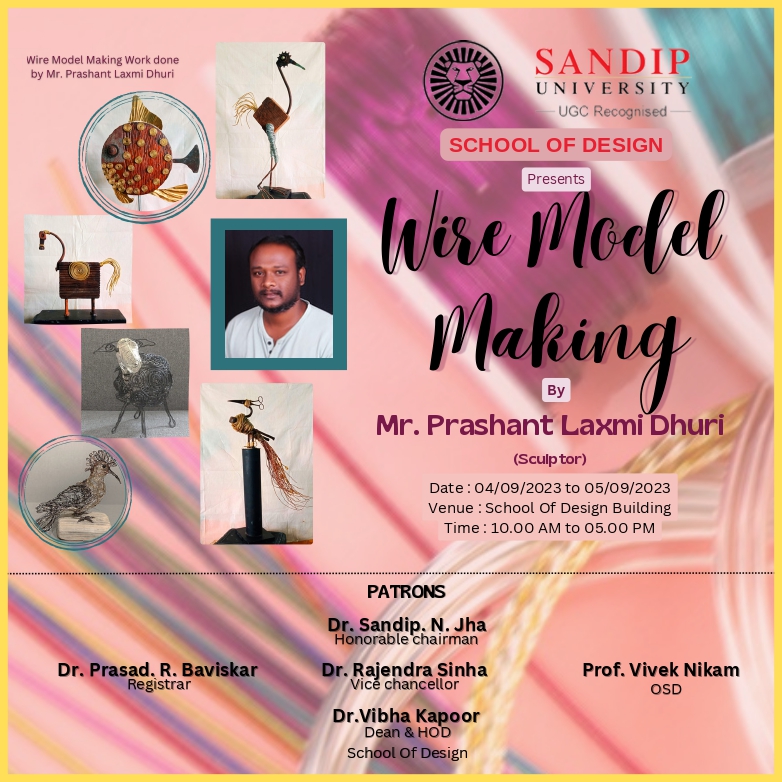 Wire Model Making
48
48 people viewed this event.
Session By : Prashant Laxmi Dhuri
Date : 4-5 September 2023
Topic : Crafting Creativity : Wire Model Making Workshop.
Event Details: The Model Making Workshop was conducted at School of Design, Sandip University, under the guidance of Respected OSD sir Prof. Vivek Nikam and Dean Dr. Vibha Kapoor Ma'am.  The workshop was led by an expert in the field, Mr. Prashant Laxmi Dhuri, aimed to enhance students' creativity and craftsmanship skills.
The workshop was conducted with the primary objective of providing participants with hands-on experience in creating various models using construction wires.
The workshop commenced with a brief introduction to construction wires, emphasizing their versatility and application in model making. Students were provided with construction wires of different gauges to create various models. Mr. Dhuri demonstrated basic wire bending techniques and shared tips for precision.
Students had the freedom to choose from a range of themes for their models, including abstract sculptures, and intricate designs. Some of the key points of this workshop were :
Students developed a deep understanding of construction wire properties and their creative potential.

Improved wire bending and shaping skills.

Enhanced problem-solving abilities through hands-on model making.

Exposure to various model making techniques and styles.

A sense of accomplishment and pride in their creations. 
The Model Making Workshop was a resounding success, fostering creativity and skill development among students. The expert guidance and collaborative learning environment allowed them to explore their artistic side while gaining practical knowledge in construction wire modeling. The School of Design will be organizing more such workshops in the future to nurture artistic talents and promote craftsmanship.