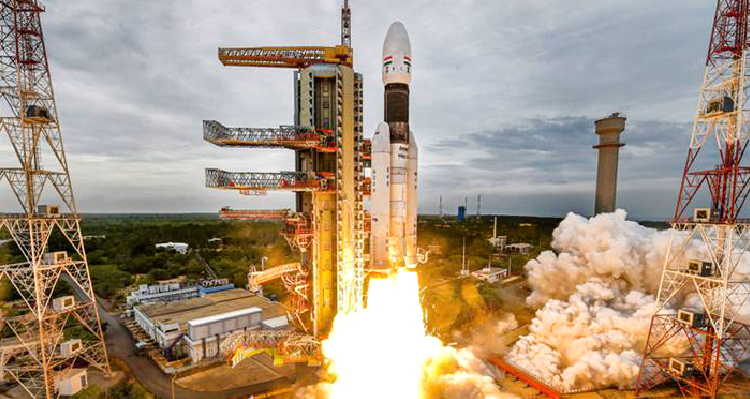 Everything You Need To Know About Isro's Chandrayaan 2 Mission
On 22nd July 2019 at 2:43 PM IST, India launched its most ambitious space mission, Chandrayaan 2. The mission was launched from India's most powerful rocket GSLV-MkIII, which lifted off from the Sriharikota spaceport. The rover is scheduled to land on 7th September 2019, on the lunar South Pole, which is a completely uncharted territory of the moon.
So far only three other countries have successfully carried out a moon landing; those countries are the US, Russia, and China. India has taken a giant leap towards launching this cost-effective space programme on the quest to explore the lunar South Pole. The mission is programmed to undertake 15 manoeuvres over the span of its 48-day journey towards the moon.
The main objective of this mission is to map the moon's surface to trace origin, study the evolution of the moon, examine the water level on and below the moon's surface, and to study lunar topography, minerals, surface composition of the moon. The entire mission has cost 978Cr. to the Indian government.
Chandrayaan 2 is a one of a kind mission because it will be the first space mission in human history to land on the south polar region of the moon. This is also India's first attempt at launching a space expedition aimed at landing on the moon that is fully designed and made with home-grown technology. If India succeeds in landing Chandrayaan 2 on the lunar surface, it will become the fourth country in human history to soft land on the moon's surface.
Chandrayaan 2 was launched by GSLV Mk-III, which has been completed designed and manufactured in India. Chandrayaan 2 is carrying 14 payloads weighing a total of 3,853kgs, the heaviest payload carried by an Indian rocket. The payload includes Orbiter, Pragyan Rover, and Vikram Lander. The Orbiter is designed to monitor the moon's surface and facilitate communication between Earth and Vikram Lander. Vikram Lander will land on the surface of the moon, executing India's first soft landing on the moon. Pragyan Rover is facilitated with AI-technology comprising of 6 wheels to move along the moon's surface and gather data.
Prime Minister Modi has expressed pride and jubilation regarding this mission, stating that the main goal of this mission is to encourage young minds to explore science and space as a viable career option. The entire mission is devised to provide entirely new information to humankind about the moon.
Some impressive Indian women scientists have been instrumental in dubbing India as an emerging space superpower. Ms. Ritu Karidhal, Ms. Anuradha TK, and Ms. Nandini Harinath have been at the forefront of the Mars Orbiter Mission.
Over the last few years ISRO has become synonyms with national pride in India. With an increase in space missions launched by the Indian government, there has been a steep rise in a variety of job opportunities in the country. This is the right time to consider a career in aerospace engineering. Aerospace engineers are in high demand by public and private sector companies in India.
Sandip University's B.Tech in Aerospace Engineering programme is a comprehensive undergraduate degree programme that is designed to enhance a student's employability. The course curriculum is designed by expert faculty members and industry veterans to ensure zero gaps between academia and industry. Sandip University has fully equipped laboratories where students gain hands-on practical training to make them ready to join the aerospace industry. Sandip University provides 100% placement assistance to all students through annual placement drives. Here is your chance to become an aerospace engineer that revolutionises India's future in space.
For more information visit www.sandipuniversity.edu.in