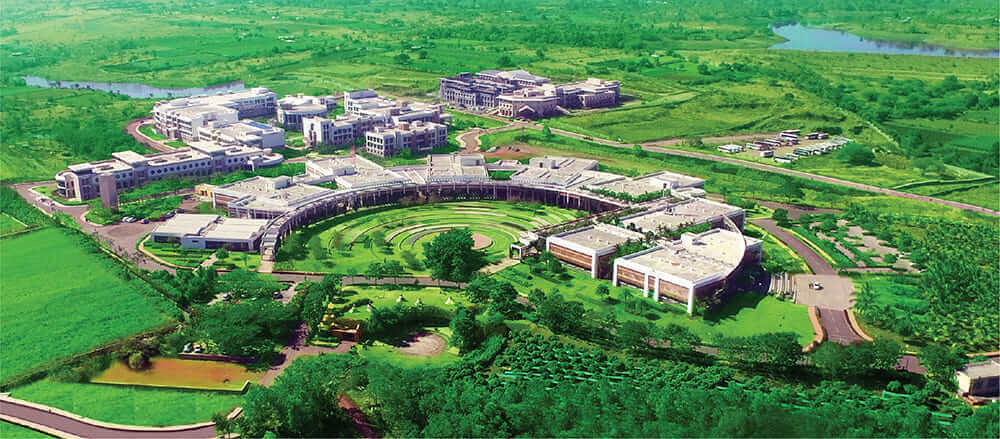 Sandip University is one of the top universities at Nashik (Maharashtra) which serves as the destination for 21st-century education. The University has a world-class infrastructure with a vast 250+ acres Wi-Fi enabled campus, 24*7 security facilities. The campus has modern library housing more than 1,00,000 books, computers and spacious seating arrangements. Other on-campus facilities include transport, hygienic canteens, travel, saloon, gymnasium, swimming-pool, ambulance facilities, to name a few. Students' welfare is boosted by 21 SUN (Sandip University, Nashik) Clubs that are created "For the Students & By the Students".
After its huge success at Nashik, Sandip University now expands to the state of Bihar (Madhubani). In an area of 60 acres of Sijoul Campus, this UGC recognised university offers latest undergraduate and postgraduate programmes as per industry trends. It is now emerging as a top Engineering and MBA college at Sijoul, Bihar. The heights gained by the school are reverently dedicated to Hon. Chairman Dr. Sandip Jha, whose indomitable willpower and tireless efforts have taken this institution to where it stands today. Magnificent infrastructure, faculty par excellence, and strong corporate exposure gives each student the best learning environment.
Enquire Now
(field marked with * are mandatory)
When I decided to pursue B.Tech in Cyber Security and Forensic-IBM. I had conducted a lot of research on top engineering colleges in Maharashtra. That's how I found out about Sandip University and decided to take a tour of the University and find out more about the courses they offered. I cannot describe what a wonderful experience that tour was. I had come in with my parents and they were equally impressed by all the modern facilities, the beautiful campus, and by Sandip University as a whole. We met career counsellors at the admission centre who gave us detailed information about the courses offered at Sandip University. I was so amazed to know about the various industry-oriented courses offered by the University. Even before I had left the admission centre I had already made my decision to study at Sandip University. It's the best career decision I have made in my life.
Mahesh
Student
I am currently pursuing M.TECH Transportation Engineering & Planning at Sandip University. My personal experience here has been just fantastic. Some of my school friends have joined other colleges in Maharashtra and when we discuss our studies and college life they are so surprised by how happening my student life is at Sandip University. We participate in so many educational activities like workshops, field trips, expert guest lectures, industrial visits, seminars, webinars and also extracurricular activities. The best thing I like about studying at Sandip University is that there is a lot of focus on practical learning. That helps us keep in touch with industry standards. I would really recommend Sandip University to all students looking for industry-oriented courses to kick-start their career.
Shubham
Student
Event Title: Future Advancement in Civil Engineering 2020
Event Date: 16th & 17th of March, 2020
Event Conduction Duration: 2 Days
Event Venue: Sandip University Campus, Nashik

OUR

COLLABORATIONS

Sandip University has tie-ups with the several renowned tech institutes in India such as IBM, CDAC, etc that offer several collaborative programmes. These study programmes will help students with lucrative career opportunities across the globe. These collaborations also enable the faculty to gain an international perspective in their chosen field of expertise.